It was going to be a day of pure excitement with possible promotion on the cards for the green army. As they travelled south to heckmondwike, they knew a win was vital to keep cleckheaton feeling nervous about their final 2 encounters. This weeks opposition were much more pleasant, the total opposite of the pure filth the ladies faced last weekend. The game got under way at midday and the determination could be felt all around. Slaz started strongly, merkin all areas of the pitch and leaving Lisa GK rather bored in her goal.
Millie Crowther and Daisy Gee-Sanders had some beauty shots at goal, but unfortunately the heckmondwike goalkeeper had obviously being doing her flexibility training or dusting her house- clawing many shots out from the top corners of the goal like a cat. Half time arrived and slaz left feeling rather vexed at the 100 missed opportunities.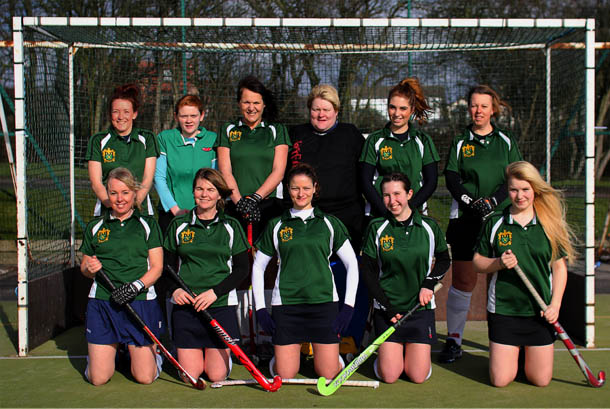 The second half got underway, the inspirational words of Nez were ringing in the green army's ears and the faithful supporters of Houghy + Sarah Ritchey could be heard from the side lines. For the first 15mins, it was like deja vu for slaz, with the keeper pulling off some awesome saves. "Go round her" was the shout from the fans.
Pressure was piled on and heckmondwike were clearly struggling with slaz's sik skills. The hockey was quite phenomenal and the opposition were clearly beginning to fatigue from chasing the slazenger athletes. Eventually, the moment the hockey world was waiting for arrived- the green army were a goal up!! A shot into the bottom corner from Elle Poskett that even mrs flexible goalkeeper couldn't reach finally broke the deadlock!
Now the question was 'could they hold on?' The answer to this was clearly yes. In fact, the green army wouldn't just hold on, they would go on to merk it..ending the season in true style. Another goal from Elle Poskett put them 2-0 up, this time from an acute angle of 12° . It squeezed past the keepers pad, giving slaz breathing space.
But they weren't finished yet, Katie Browne, a 3rd team superstar, was about to step up to score a goal that can only be described as 'like a dream.' A short corner was taken, Katie waited at the left post and elegantly placed her reversed stick on the floor. The perfect positioning allowed the ball to be deflected beautifully into the goal.
Shortly after, the final whistle then blew for a delighted slaz. They had done all they could and the pressure was all on Cleckheaton. A few hours later, news came in that they had fallen at the first hurdle- losing their saturday game to Leeds! It was official- the green army were promoted!! Time to hit horbury and sing Spice Girls to celebrate!