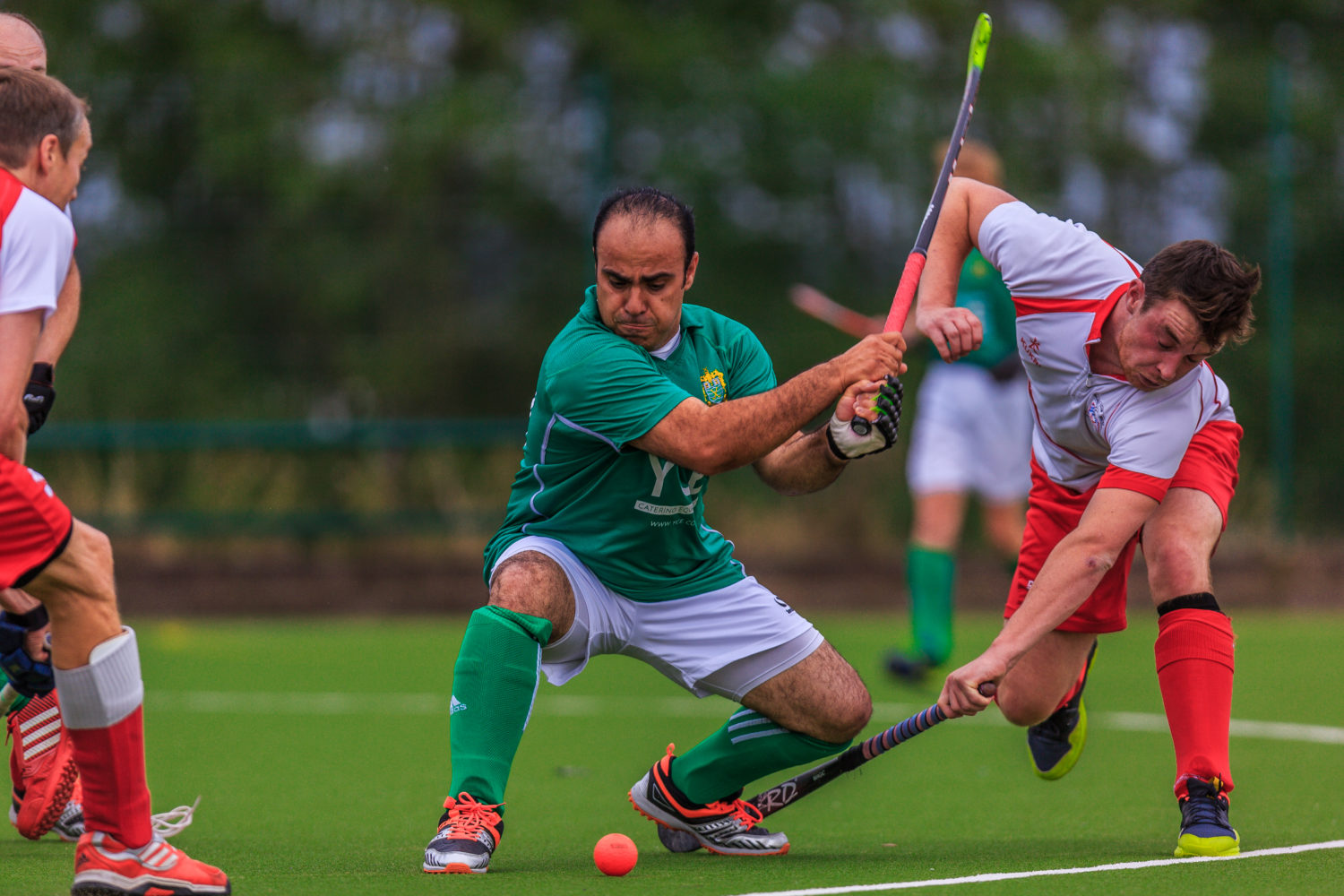 Men's 1st's (2) vs. (5) Driffield 1st's
Men's 1st's lost out in a 7 goal thriller at the Southfield pitch. Slazenger scored their goals through Alex Stacey and Danny Perry. Unfortunately at the other end, Driffield netted 5 to take the 3 points.
Men's 2nd's (3) vs. (2) Aire Valley 2nd's
Another game, where the scoreline did not tell the whole story. Slaz were by far the dominant side, with progressive passing hockey. However it was evident that the Slazenger shooting sticks were still carrying some rust, as shot after shot rained everywhere but the back of the net. The slow pitch, combined with some particularly impressive goalkeeping and very dodgy shooting kept the scoreline goalless. 
Asad Baig netted the first of his brace, flicking the ball into the back of the net from a short corner. A period of sustained pressure saw the visitors win as a penalty stroke, when the Aire Valley defender stopped the ball on the line with his foot. After being dispatched by Richard Tuddenham, the team went into the half 2-0 up. In the second half, the home side scored two from two short corner strikes. However, Slaz netted one of their hundreds of chances to take the points. 
Men's 3rd's (2) vs. (4) Leeds Adel 4th's 
In a tight end to end game, there was very little to separate the two teams, going into the second half, Adel had nudged ahead, matching the two goals scored by Keith Leonard and dding a third to take the lead. However, Slaz were their equal and were unfortunate to miss a great chance with minutes to go. However Adel were more clinical and netted a fourth at the other end to put the result beyond doubt. While the scoreline looks convincing, it certainly was far closer for the rapidly improving 3rds side.
Men's 4th's (7) vs. (5) Leeds Leodis 1st's
Slazenger's turned up to face an 8 man Leodis thinking this would be a walkover. Leodis started with an early goal putting a bit of shock into the Slazenger's team. We quickly returned the favour and put 2 goals in in quick succession. The umpires by this point were sick of the backchat from both teams and both captains were issued a warning that cards would be coming out. Leodis weren't done before half time however and returned another 2 goals. Slaz walked in 3-2 down at half time.
Young Josh Bennett was not happy with the speed of the umpires decision making and made his displeasure known, only to ironically receive a swift yellow card for 5 minutes at the start of the next half. John Sykes applied the hairdryer treatment at half time! Slaz came out with 10 men and quickly started moving the ball around the sides of the pitch much more effectively than the first half. Leading to a quick equalizing goal. The lack of players for Leodis started to take its toll as Slaz moved the ball freely, scoring at will to take us to 7-3. We got a bit sloppy with a 4 goal lead and Leodis got a second wind and punished us with another 2 rapid fire goals. Slaz bucked their ideas up for the last 10 mins and kept Leodis out with only a couple of runs into out half. Game ended 7-5. MOM – John Sykes hat trick.
WOM -Josh Bennett yellow card
Ladies 1st's (2) vs. (5) Driffield 1st's
Slazenger 1st's hosted travelling Driffield 1st's. Goals for Slazenger were scored by Sarah Sykes (2). 
Ladies 2nd's (4) vs. (1) Skipton 1st's 
Slazengers attacked right from the start with strong passing and lead runs down the wings. This lead to a well worked team goal set up by Mia Davies and scored by Natasha Wiper. Slazenger Midfield and defence worked hard to neutralise attacking play from Skipton, with key interceptions and game management from Alex Stead, Lucy Howarth and Naomi Frith. Defenders covered every attack and marked effectively. Mia Davies scored a second goal from a short corner to secure the lead, with Lucy Howarth scoring from a short corner rebound to take Slazengers into half time with a 3 nil lead.
Play continued with slazengers maintaining control of the game in the second half and were rewarded with a beautiful second goal from Natasha, crossed by Lucy which worked right from a turnover in defence by Andrea Wallace. Ruby F continued to hold play in the attacking third and stretch Skipton Defence. A skipton short corner was awarded against the run of play which they successfully converted in the last three minutes to make the final score 4-1 and Slazenger Ladies 2s first win of the season. Player of the match was Natasha Wiper for her excellent goals.
Ladies 3rd's (1) vs. (2) Huddersfield Dragons 2nd's
Slazenger Ladies 3rds were denied a draw in their latest friendly after conceding a deciding goal at Huddersfield Dragons 2nd's in the last couple of minutes. The first half was an even contest before Dragons opened the scoring via a short corner that led to several close-range shots before the ball finally deflected into the net off Sarah Ritchey.
Slazenger equalised before half-time when Natalie Beech crossed into the D and Lauren Fealy swept it into the net.
The second half was another even affair but Dragons nicked the victory just before the end with a good goal after a shot from the top of the circle.
Slazenger U18s (7) Hull U18s (4)
George Bentley scored a hat-trick as Slazenger Under-18s opened their Yorkshire League season with a 7-4 victory over Hull. Slazenger edged the first half 2-0 with goals from Luke Minchella, after a cross by Bentley, and Max Godley, who turned before shooting powerfully into the net.
It took a while for Slazenger to get on top of a Hull side who arrived with only ten players, but the second half resulted in a flurry of goals. Hull pulled one back but Godley quickly doubled his tally, before Bentley scored his first after beating a defender to make it 4-1.
Pieter Aben and Minchella combined to set up Bentley's second goal, after he showed some neat 3D skills, and although Hull reduced the deficit again, it was soon 6-2 as Matthew Smith deflected the ball goalward after Godley's ball into the D. Hull scored two more before the end but Bentley was able to complete his hat-trick between those strikes with a reverse-stick sweep.