Mens 1st's vs. Leeds 5th's
The mens firsts were away at Leeds last week, and following some interesting navigational choices started the game without a keeper! This small defensive matter wasn't going to hold back the Slazenger charge and after 5 minutes the firsts were 2 goals up. At this stage It looked like the game could have been well in hand, however this confident start soon began to erode as individuals took to a dribbling game. When half time arrived this poor play saw the game a little more balanced at 3 – 1. A halftime Chamberlain dressing down worthy of an Eton Headmaster ensued…
Determined to bring the quality back to the game Slazenger started the second half with some excellent passing play. This transformation soon began to pay off and the Leeds backboard was soon reverberating to the sound of goals! Tuddenham turned 40 this weekend, he celebrated the occasion by racking up a double hat-trick taking his tally for the season over 40 goals. Further goals from Perry on the right and Chilton on the left garnished Tuddenham's tally to put the final score at 8 – 1.
Mens 2nd's vs. Leeds 6th's
Slazenger mens 2nd team entertained Leeds on Saturday and came away with a deserved 2-1 victory. These teams drew 0-0 earlier in the season and had almost identical records in the league going into the game so it was always going to be a close game although in the end, Slazengers were deserving of the win. The game started scrappy with both teams wanting to get a foothold but it was Leeds with the breakthrough when they converted a short corner with a smart drag flick. Slazengers responded well and put Leeds under pressure which eventually paid off when captain Ben Graham found himself in yards of space in front of goal.
Some neat skill from Asad Baig found the pass for Graham to finish well to draw level. Slazengers began to create more and more and a series of short corners resulted in Chris Gascoigne finishing a rebound well on the post to give Slazengers a 2-1 half time lead. Both teams pressed in the 2nd half with Leeds losing a couple of players for 5 minutes through indiscipline, and although Slazengers couldn't find the 3rd goal to kill the game off, they held on well for the win. Will Buckley took the man of the match award edging out Tristan Whittle.
Mens 3rd's vs. Kingston Upon Hull 3rd's
Slazenger entertained promotion rivals Hull but struggled to play their normal flowing hockey. The home side had the most of the possession and came close to scoring when Tim Carr saw his shot rebound off the post. Hull broke quickly and took the lead from the counterattack.
Slazenger kept pressing and were rewarded for their efforts following a deft finish by Alan Perry. Dave Gascoigne then splintered the backboard with a fearsome strike to put Slazenger in front going into halftime.
The Horbury side were out of sorts in the second half and unfortunately failed to get any tempo or rhythm. They were duly punished for sloppy marking as the visitors levelled. Slazenger took charge again later with Man of the Match Tim Carr sniffing out a chance. The lead didn't last long as Hull capitalised on a defensive error. In the final stages of the game Slaz searched for a winner with Matt Banks and Sam Haigh dominating the midfield but it never arrived.
Slazenger travel to Doncaster on Saturday with fire & desire to make amends for this below par performance.
Mens 4th's vs. Ben Rhydding 4th's
Slaz 4s travelled to Ben Rhydding for a friendly game in their week off. This match gave the opportunity for captain Danny Croxall to test a few things and to give match time in the 4s to Joe Tebay and Davy Ramsdale. The away side started brightly which lots of attacking opportunities without any reward. This included a number of short corners and a disallowed goal. The half time score was 0-0 but Slaz were on top throughout the first half.
When the second half began, Slaz continued their dominance and Dan Cass opened the scoring for the greens within two minutes. This lead was extended by Davy Ramsdale who made up for a his missed penalty flick to give Slaz a comfortable margin to win the game. Ben Rhydding did pose an attacking threat later in the game with a few counter attacks but Slaz were solid at the back.
The game ended 2-0 with Dan Cass getting the man of the match award for a superb performance in midfield. Next week Slaz start there home run of 5 matches with a visit from Sheffield Hallam.
Mens 5th's vs. Wakefield 8th's
Slaz were missing the bulk of their usual midfield so it was time for players to step up and show versatility – a job made harder by the Wakefield side being bigger and older (and always including four adults!).
Slaz got their heads down and worked hard, digging deep in defence and sometimes creating extended periods of pressure in attack, but the task proved too much. Wakefield deserved their 3-0 victory, which could have been more but for keeper Adam Garside. Slazenger man of the match was Joe Minchella for his hard work in defence and skills and running going forward.
Ladies 1st's vs. Leeds 2nd's
Ladies 1's took a well earned point from their weekend tie with Leeds Ladies 2's. After narrowly missing out last week, Slaz were determined that this weeks efforts would gain some reward.
Slaz tested Leeds from the start, but the Leeds defence stayed strong and denied the home team from taking the lead. Defensively, Slaz were able to maintain control with player of the match, GK Gemma Wilson, making crucial saves to gain the first clean sheet of the season for Slaz.
A number of near misses for Slaz in the second half kept the scoreline at 0:0.
Ladies 2nds vs. Skipton 1sts
Slazengers showed their great team work by dominating the open play of the match, they built play well from the back with Mollie Gilbert, Jess Lloyd and Lauren Carruthers working hard to defend the D. Midfield and forwards held possession well throughout the match with some beautiful passages of play. Unfortunately Skipton earned two short corners, and converted both, leading to the end result of Slazengers 0 – 2 Skipton. Player of the match was Mollie Gilbert in defence.
Ladies 2nds vs. Huddersfield dragons 2nds
Slazengers found themselves on the back foot as Dragons scored from an early short corner. They did not lose confidence or motivation though, and battled hard to keep possession, build play and drive forwards. Lucy Howarth took every opportunity she could to have a shot on goal and left their defence baffled as she ran around them. Towards the end of the first half Karen Woodhead passed the ball to captain Naomi Frith who scored the equaliser. Slazengers started the second half controlling the game and attacking from the off. They had several more chances to score, but it was Amy Brereton who stormed down the right wing, beating her defender to take her shot and score the winning goal in a crucial league match. Player of the match was Lucy Howarth in midfield.
Ladies 4th's vs. Pheonix 1
The ladies 4th team were expecting stiff opposition from top of the league Phoenix 1 in their rearranged game this Sunday. What they didn't expect was that in the first few minutes, Sarah Allen scored her first goal for Slazengers, putting the Slazengers team ahead. What followed led to an exciting first half with Phoenix drawing and then going ahead with two successive goals. Lucy Brereton scored the equaliser but Slazengers struggled to defend their experienced attackers and were left conceding 2 further goals before half time.
Whilst Phoenix went on to dominate the second half, Slazengers were not without opportunity with Sarah Allen again, taking a shot on goal but this time failing to get it passed the keeper. Lauren Hattersley fought hard in defence, twice stopping the ball from shots on goal and despite brilliant goal.
keeping from Lizzie Tunstall, Phoenix set themselves up to score and were successful. Whilst the Slazenger ladies lost 8-2, this doesn't reflect their improvement as a team and they shouldn't be disappointed. Julie Bailey, captain – continues to be impressed by the teams development and enthusiasm.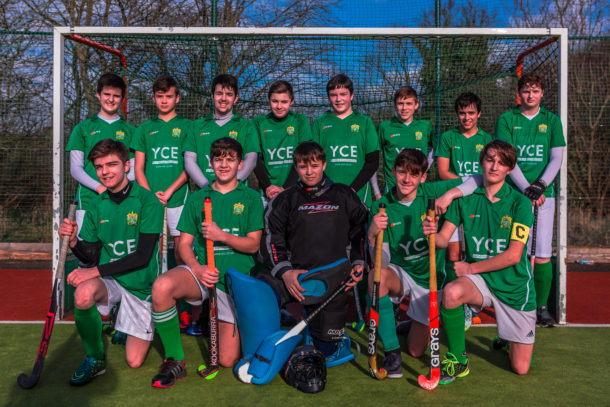 Boys U16's
Slazenger's u16 boys were in excellent form this weekend gaining promotion to division 2 after straight victories over both Leeds and Bradford.
The first match was well contested match with Slaz feeling the pressure early from a well organised Leeds side. However, some early signs of Slazengers' potential was evident early on after some fast attacking moves tested the Leeds defence. Slazengers play developed as the game progressed from the strong slazenger outfit, but Leeds held strong. It took an outstanding strike from Mathew Chilton to break the deadlock; crashing the ball off the inside of the cross bar and into the back of the net from a penalty corner. The team galvenised around this and a good team effort kept the lead and the game finished 1-0.
Slaz returned back to the pitch to face Bradford. The game was played at with vigour as Slazenger began to find their rhythm. Bradford's side was well drilled and came out quick against Slaz. However, the greens defence held firm and 2 rapid counter-attacks put the game beyond doubt. Goals came from a superb reverse stick shot by Owen Bland and a well worked team move, which Davey Ramsdale was on the end of. Slaz move up to division 2 for the next round, chasing a spot in the Championship playoffs.