Mens 1st's
The joys of Sheffield Hallam away befell the Men's first eleven this week with a cold dark four thirty away game at Abbeydale. Some interesting navigational choices saw half the team arrive four minutes before the start of the game, come the push back, it showed. Slazenger's got off to a very slow start, the firsts pedestrian pace and lack of positional awareness gifted the Sheffield side a couple of easy early goals. Not even trusty Slaz short-corners could redeem the first half as several attempts were rolled away by a competent Hallam defence.
An animated halftime talk from pensioned off former captain Paul Wiper added a little more shape to the first team in the second half, and for a time pace recovered to the levels that has got the team to second in the league.
This fruitful spell gifted Slazenger two goals, a peach from James Swindon and one from Richard Tuddenham. However, despite a great performance from Matthew Chilton on the right, the lethargic general pace Slazenger's brought to Sheffield would ultimately pay its toll with a 4 – 2 defeat. The men's firsts finally return home on Saturday at 1:30.
Mens 2nd's
Slazengers mens 2nd team found themselves on the wrong end of a 13 goal thriller, losing out 7-6 to Sheffield Hallam 5's. Hallam started the brightest and rushed into a 2 goal lead only for Slazengers to turn it round with goals from Asad Baig, Ted Richardson and Ben Graham to take a 3-2 lead. Excellent running down the right from Ben Jackson created a number of chances and assisted a couple of goals. Hallam immediately hit back however to lead 4-3 at the break.
The 2nd half continued in the same topsy turvy fashion with Slazengers equalising through Baig only for Hallam to immediately take the lead again. Further goals from Richardson and Baig who completed his hat-trick weren't enough however as Hallam continued to be strong in attack and replied with goals themselves eventually holding out for the victory. Slazengers can take many positives from their attacking display however will look to shore up their leaky defence away at Wakefield on Saturday.
Mens 3rd's
Slazenger 3rds had to settle for a share of the points from their trip to Sheffield. After taking the lead through a Paul Johnson strike, the horbury side were then guilty of missing several chances. Sam Haigh and Chris Gascoigne both missed opportunities to double the advantage and Slazenger reached half time with only a single goal lead.
The home team started the second half the brighter side and a lapse in concentration at the back allowed them to score an equaliser. A scrappy second followed and it looked as though Slazenger would be heading for only their second defeat of the season. With two minutes to go another short corner strike from man of the match Johnson rescued a point for the away side. Ben Stevenson put in a great performance in defence, with several key interceptions preventing further goals.
Slazenger remain top of the league and host Rotherham next Saturday.
Mens 4th's
Slazenger 4s welcomed top of the league Worksop 2 to Horbury with a spring in our stride after beating Wakefield 7s last week. In contrast to Slazenger 4s who had an abundance of players wanting a game Worksop arrived with 10 players. Years of experience in sport however set alarm bells ringing as time and time again you see what looks like a depleted team step up and take a win or prove difficult to break down.
The first half went well for Slazenger who made plenty of space and controlled the game with some quality movement and passing. There were also a sprinkling of good goal attempts by Brian Johnson who just pushed one wide of goal and Stephen Johnson who just put one over the cross bar but nothing to show for either team as the half time whistle went.
The half time team talk was buoyant with Tony Walker and James Armatage reporting that the defence were happy and controlling events. Josh Dunston and Issac Fisher were also giving a similar feedback about the midfield. The second half started as the first half finished. Slazenger did secure a run of shorts that we just couldn't capitalise on, saying that, the Worksop keeper did keep them in the game.
The full time whistle saw the score at 0 – 0. The man of the match vote probably best sums up the team performance not 1 person got more than 1 vote and the man of the match had to be drawn out of the bag. Lucky Dip winner was Owen Bland (well done), and by the way, I see this as a positive all round good team performance.
Mens 5th's
For the second week in a row Slaz 5s were slow out of the blocks and found themselves a goal down – however this time there was no redemption despite pressure that built to a frenzy in the second half. At one point there were seven chances on goal in a single presence in the opposition D, none converted, including Davey Ramsdale hitting the post. Final score Chesterfield 1 –0 Slazenger.
Two more Minchella debuts this week, dad Dean and youngest Luke, with Luke showing the older ones how it is done! Man of the match went to Tom Hyde for tireless work in midfield and for working to the plan.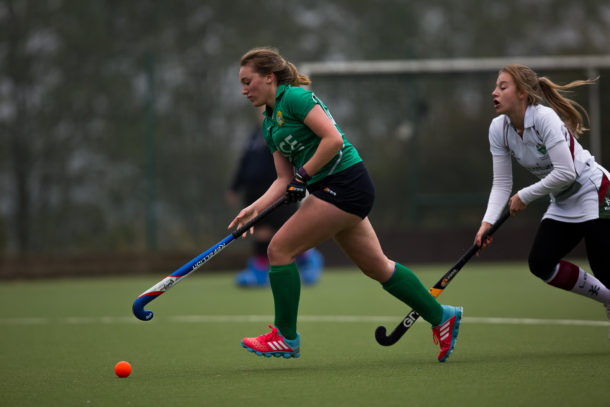 Ladies 1st's
Ladies 1's were again at Weetwood at the weekend, this time taking on Leeds University 2's. The team went out strong and pressurised the Leeds defence from the start. Unfortunately Leeds capitalised on a break half way through the first half and gained the lead. This gave Leeds increased confidence and they were able to put continued pressure on Slaz – half time score was 2:0
The second half saw an early goal for Leeds, however Slaz – determined to break the Leeds defence maintained the majority of possession in the Leeds half. A great shot from Helen Hough gave Slaz a much needed goal. The pressure continued with Alex Gilbert converting a second.
A number of penalty corners for Slaz saw a number of near missed and unfortunately denied Slaz any points this week. Next week sees the Ladies 1's take on Wakefield 3's at home
Ladies 2nd's
The first half required a sold defence from Slazengers who protected their goal numerous times in short corners including Sarah Hobbs saving on the line. Bridlington scored the first goal from open play meanings Slazengers were 1-0 down at half time. After half time even defending numerous short corners successfully with Sarah Hobbs saving another goal on the line Bridlington managed to score 4 more goals. Slazengers did steal a goal back but it finished 5-1 to Bridlington. The Slazenger goal went to Gaby Giggal and man of the match went to Sarah Hobbs.
Ladies 3rd's
Ladies 3s hosted Sheffield Hallam and following 4 points from a win and a draw the previous weekend the ladies were feeling positive about gaining something from this fixture. However the visitors took charge from the outset dominating the midfield and pentrating the Slaz D early creating cause for concern for the home side. The Slaz defence held strong and managed to clear the danger this time. Hallam continued to press the Slaz defence and were rewarded with a goal soon into the first half.
Slaz had some good attacking play and took the ball in to the Hallam 23 and D on numerous occasions but their solid defence picked off most of the home side's opportunities. A chance came for Slaz by way of a penalty corner in the first half but even with 2 defenders being sent to the half way line for breaking early Slaz were denied.
Hallam had their fair share of pc's in the first half which Slaz defended firmly but a 2nd goal for the visitors came shortly before the half time whistle.
In the second half Slaz started with enthusiasm and believed a draw was still on the cards. The home side went all out and created plenty of chances, a great cross was put just wide of the left post, a strike from a short denied by the keeper, a lifted ball just tipped over the bar, to name but a few. However the visitors continued to dominate a tired Slaz 11 and were given far too much time on the ball in the midfield allowing them to attack and a further 2 goals were conceded.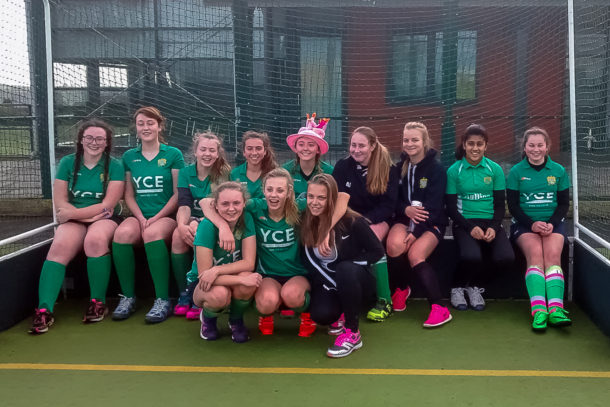 Girls U16's
Slazenger girls u16's attended their 2nd tournament of the season this weekend.
Their first game against Ben Rhydding B was a game of 2 halves. In the first, Slaz were constantly under pressure from a sustained Ben Rhydding attack – Ben Rhydding scoring 3 in succession. Slaz were able to pull one back with some excellent individual play from Emily Hunter. The second half saw Slaz regroup and come out fighting. Charlotte Thompson made her debute for the team playing in goal, prevented Ben Rhydding from adding to their tally, but as the Ben Rhydding defence also stayed strong the full time score was also 3:1
Their second game against Wakefield 3's was evenly matched throughout, with some excellent play from both teams. Slaz took the lead with a brilliant build up from the midfield leading to a great strike from birthday girl Gabby Giggal. Wakefield were quick to equalise and the half time score was 1:1. The second half saw Slaz attack from the off and after a number of missed chances a fantastic short corner routine saw Abigail Collins net the second for a Slaz. Full time score 2:1.