2013 saw the replacement of the ageing sand based pitch with a state-of-the-art sand dressed synthetic turf pitch. This will update the pitch to the highest quality, providing a fantastic new playing surface and bringing the facilities up to date. In addition to this, the lights have received a total overhaul, meaning evening matches will be brighter and better lit than ever before! A series of working parties have refurbished the changing rooms and the pitch area.
The pitch was opened by Rt.Hon.Mary Creagh M.P. for Wakefield, alongside representatives from grant bodies which contributed to the funding of the new pitch.
The opening game was a rematch between Horbury and Ossett Academies – following the same game  which opened the pitch in 1995.
The current pitch has served the Sports Club well for 18 years (since its construction as shown below in 1995). The refurbishment will bring the facilities up to a standard which will rival any hockey facility in the area.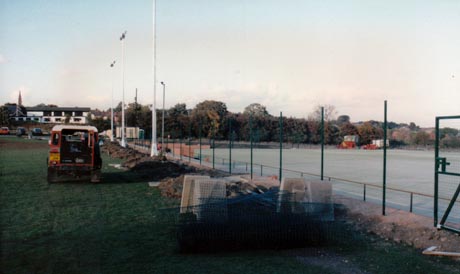 Grant Bodies
| | |
| --- | --- |
|   | Biffa Award is a multi-million pound fund that helps to build communities and transform lives through awarding grants to community and environmental projects across the UK. |
|   | We have supported community and environmental projects for over 15 years, using Landfill Tax Credits from Veolia Environmental Services (UK) plc to award £52 million to 1579 projects. In the past five years we have awarded over £640,000 to projects in West Yorkshire. For more information, or to find out how to apply for funding, visit our website www.veoliatrust.org. |
|   | WREN is a not for profit business that awards grants to community, environmental and heritage projects across the UK from funds donated by FCC Environment to the Landfill Communities Fund. |
|   | The Foundation is a Charitable Trust originally established to develop and operate the hockey stadium at Milton Keynes, sold during 2007. The Foundation's principle remit now is to administer the substantial funds resulting from that sale for the benefit of sport in general and hockey in particular. |
Pitch Launch Schedule
On completion of the work, there was a celebratory opening weekend, with pitchside DJ throughout, music, entertainment, events and even a bit of hockey! 
Saturday saw exhibition games and the official opening, while Sunday had games for all juniors and seniors at the club.
Satuday 31st August
10:30 – Pitch Opening – Rt.Hon.Mary Creagh M.P. for Wakefield
10:30 – 12:00 – Junior Schools Showcase – Horbury Academy vs Ossett Acedemy
12:00 – 13:30 – Ladies Showcase  – Ladies 1st's vs. Yorkshire Masters
13:30 – 15:00 – Mens Showcase – Mens 1st's vs. Bradford 1st's
15:00 – 16:30 – Veterans showcase – Mens Vets vs. Wakefield Vets.
17:00 – Presentation
17:30 – Buffet
19:00 – Club Social
Sunday 1st September
09:30 – 12:00  – Junior Parents Vs Kids Tournament
12:00 – 14:00 – 5-a-side tournament
14:00 – 17:30 – Interclub 7's
17:30 – Pie & Peas