Introduction
Every year, Slazenger Hockey Club hosts the Summer Solstice 7's; A 7-a-side tournament, with competitions for both mens and womens teams. The competition hosts 16 teams who compete for the mighty solstice trophies.
The weekend wouldn't be complete without complementary hog-roast and live band Saturday evening, on-site catering from the "Caravan Cafe", and pitchside DJ-ing throughout! This year, the tournament will be held on Slazenger's brand new, state-of-the-art sand-dressed pitch!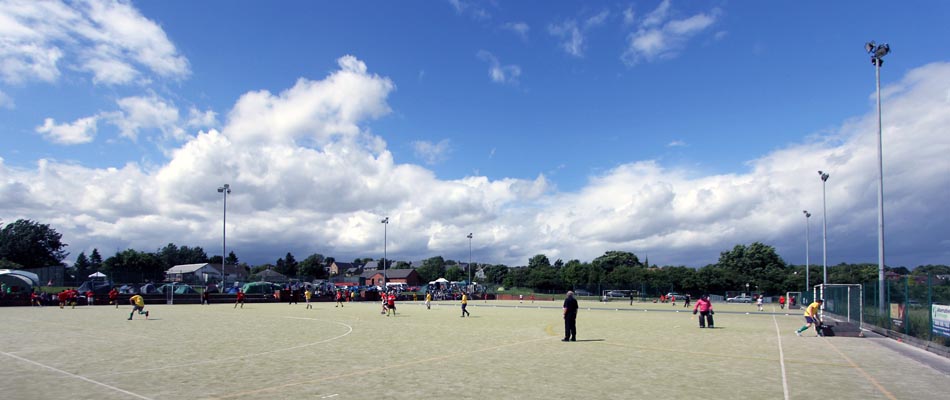 Format
The solstice is two competitions; mens and ladies which run side by side on the same pitch. Games are half pitch, 25 minutes one way, with 5 minutes between games.
Each competition is divided into 2 pools, which play off throughout Saturday. The top teams compete for the Solstice Trophy, which the bottom teams compete for the finest wooden spoon around! This guarantees 3 games on Saturday and 2 more games Sunday, still leaving plenty of time to pack up and get home. All games are played on the club's new sand dressed artificial pitch, and officiated by neutral umpires provided by the organisers.

Cost
£195 entry fee for team of 10 includes:
Tournament entry fee;
Saturday evening monster Hog Roast (included in price);
10 Team festival t-shirts;
On-site camping with modern changing rooms & showerfacilities;
In addition to this, there is also a whole lot more going on:
Neutral Umpires
Fancy dress on Saturday evening;
Live band on Saturday Night;
On site catering during the day;
Fully stocked clubhouse bar;
Pitch Side DJ throughout the day;
On site Hockey Shop;
How to Enter
To enter a mens or womens team, simply download and submit a registration form.
We will require a deposit of £100 per team to confirm your place.
Rule Amendments
All normal rules apply with the following exceptions:
No long corners; should the ball go over the back line from defending player it is a defence hit out unless it is done deliberately in which case a short corner will be awarded.
Defending teams may have 4 players plus the keeper behind the linefor short corners, the remaining 2 players should be in the oppositions D untilafter the ball is played in.
The pitches are divided by boards, should a ball touch these boardsthe ball is out of play.
The ball must travel 5 yards from any free hit in the oppositionshalf before it enters the oppositions D.
Players from both teams must be 5 yards from any free hit anywhereon the pitch.

Umpiring
Although this is a social tour a good standard of tournament hockey is hoped for, however preventing dangerous play will be the priority for the umpires especially given that two games will be taking part on the same pitch at most times.
To this end Slazengers have organised to provide all umpires for the games. It's asked that all teams respect these individuals who have given up their weekend and there will be no need for cards of any nature. However any yellows given will be at the discretion of the umpire for time off the pitch. Any players receiving excessive cards or placing other players in danger will be discussed at the time with the team captain and/or with the tournament organisers.
Scoring
Umpires will complete all score cards and return to the scoring tent following each game.
3 points for a win
2 points for a score draw
1 point for a no score draw
1 point per goal.
Location
Southfield Lane
Addingford,
Horbury,
Wakefield,
WF4 5BH,
The Solstice is hotsted at Slazenger Sports and Social Club, Horbury, Wakefield. Need some directions? Just drop your starting address into the box, and let the website (with a little help from Google) take care of everything else…
DIRECTIONS: Exit M1 at J40 and take A638 towards Wakefield. Ahead at Traffic Lights and at the pelican crossing, then right into Broadway (sp Mining Museum) and, at the end, turn right following A642 (Huddersfield) Travelling under M1, and continuing passed Horbury Primary School (on your right). Turn Left into Daw Lane (sp Horbury Industrial Estate) and immediate 1st Right following signs for Slazenger Sports and Social Club.
For More Information – Email Mat Birkett at matbirkett@yahoo.co.uk
Past Winners
| | | | | |
| --- | --- | --- | --- | --- |
| Year | Mens Winner | Womens Winner | Mens Wooden Spoon | Womens Wooden Spoon |
| 2013 | The Incredible Fluffy Sheep | Slazenger HC | Slazenger HC | The Horneys |
| 2012 | The Incredible Fluffy Sheep | Adel Allstars | The Blowmees | The Incredible Fluffy Sheep |
| 2011 | Team Jager | Slazenger HC | Team LHC | Northallerton |