THIS MONTH – AWARDS DINNER 2012, JUNIOR PRESENTATION DAY 2012, SEASON ROUNDUP AND REGULAR SECTION UPDATE. This should have been delivered straight to your inbox for your reading pleasure. If it has not, keep up to date by filling in the "SUBSCRIBE TO NEWSLETTER" form on the right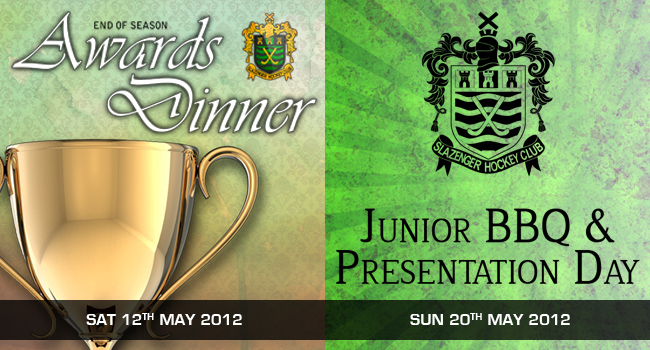 Hi,
The season has finished, the results are in and it has been a great season for the club. All that is left to do is celebrate – hopefully you have your end of season tickets! If not, speak to Mat and Hayley as they will be booking final numbers this week!
Newsletter No 7 – April 2012
Senior Awards Dinner – Sat 12th May
There are still tickets available for the end of season dinner and given recent wins, it should be a great night!
Matt & Hayley will be finalising numbers and sorting tables this week, so please let them know at matbirkett@yahoo.co.uk. Full details are online at this link
Junior Awards BBQ & Parents v Kids
All juniors, parents & coaches are invited to the Parents v. kids & junior presentation. The tournament will be between 10am – Noon. As usual, all parents are invited to kit up and face off against the juniors! The BBQ and awards will be held afterwards. If you dont have tickets, full details are online here.
Tickets need to be bought before the event so numbers are known for catering
Big Wins
Congratulations to the two teams who achieved promotion this season. The Ladies 2nds and Mens 3rds both finished 2nd in their respective leagues, picking up promotion. The Ladies 2nds will compete in Yorkshire Div 3 next season, and the Mens 3rds in Yorkshire Division 6 (South)
Other News
The Last Hurrah!
On April 29th, the Slazenger Mens "Old Boys" 1st team of 1985 will take on an Adel team of similar vintage at Slaz. Push back is at 3pm. All spectators are welcome!
U14 Play Offs
Also on April 29th, The Boys U14's will be competing in the Yorkshire Play-offs. Matches start 2pm at Halifax Hockey Club. The team is looking for plenty of vocal support to help crown them the best in Yorkshire!
Congratulations to Will Buckley
After several years of preparation looking after the mens 1st team :-), Captain Will Buckley is going to have a baby of his own! Congratulations to the happy couple!!
England Call-ups
Congratulations to 1st teamers Eleanour Townend and Amanda Sowerby who has been selected to play for the England Masters Team this year. They will be taking part in various training and competitions starting with the North Masters Tournament, and including the Masters Hockey World Cup which will be held in Kent this year, just after the Olympics!
Juniors Success!
7 of the current Slazenger BU14's squad have been selected to train as part of the Yorkshire U14 and U15 squads, after competing for West Yorkshire in regional trials. Full details can be found here. Those selected were: Aidan Hopkinson, Ralph Toon, Rowan Tejura, Matthew Stacey, Luke Gueli, Isaac Fisher and Matthew Feather. Congratulations to all the players!
Club Committee Meeting
Another date for your diary is the next committee meeting, to be held on Tuesday 1st May at 7.30pm in the clubhouse. All are welcome to attend. Section and club AGM details will be coming soon!
Summer League
Ladies 1st team is entering the Wakefield Elite Summer league. It starts 1st of may on alternative Tuesday nights details will be coming soon. Also, Nez is entering a 2nds/3rds ladies team. For those interested you can contact her by mobile on 07850138640.
Junior & Development Help!
The juniors will be looking for new coaches and volunteers for next year. All help is welcome, regardless of experience. So if you are a parent who has never played before, or a wizened old vet (or anywhere in between), now is your chance to get stuck in! The mens section is also looking for someone to run the development team next season. If you're interested in either, just reply to this email!
Summer Training
Slaz is running summer training as usual, Wednesdays 8pm-9pm. It is £3 per session and is open to all seniors (including juniors who play Saturday hockey). 
Season in Review
Results Roundup
The season is over, the dust has settled, here are the standings:
| | | |
| --- | --- | --- |
| Ladies 1st's | 7th (out of 12) | North Div 2 (East) |
| Ladies 2nd's | 2nd (out of 12) – PROMOTED | Yorkshire Div 4 |
| Ladies 3rd's | 6th (out of 11) | Yokrshire Div 6 |
| Mens 1st's | 4th (out of 12) | Yorkshire Div 2 |
| Mens 2nd's | 7th (out of 12) | Yorkshire Div 5 (South) |
| Mens 3rd's | 2nd (out of 10) – PROMOTED | Yorkshire Div 7 (South) |
| Mens 4th's | 4th (out of 8 .) | Yorkshire Development |
Of the three teams fighting for promotion, 2 got it – unfortunately the Mens 1st's were beaten to 2nd place in the last week of the league. All other teams have had strong seasons, with everyone achieving mid-table positions or higher.
The juniors have had another  great year, some impressive performances from the U10's section show a wealth of talent coming through in both boys and girls teams. Similarly, the U12's have had some great showings, especially the boys with some big wins over local rivals. The strongest boys team has been the U14's who will compete in the Yorkshire play-offs after coming 2nd. The girls have also done well, especially several new players joining the U14 age group. Unfortunately, the U16's have had some tough matches during the season and so were unable to reach the play-offs with either the boys or girls teams.
Reports Roundup
Mens 1st's vs. L.A.Carnegie 3rd's (loss).
Mens 2nd's vs. Sheffield Uni Bankers 7th's (loss), Doncaster 6th's (win).
Mens 3rd's vs. Sheffield Uni Bankers 8th's (win), Chapeltown 4th's (win), Normanby Park 2nd's (win).
Ladies 1st's vs. Huddersfield Dragons (draw), Kingston Upon Hull 1st's (loss).
Ladies 2nd's vs. Halifax 3rd's (win), Heckmondwike 1st's (win).
Ladies 3rd's vs. Thirsk 2nd's (win), City of York 5th's (win).
Finally…
If you have any comment, criticism, or stuff which needs getting online, let us know at Clubhouse@slazengerhc.co.uk.
If you have any video, old images, match reports or anything else, let us know using the above address.