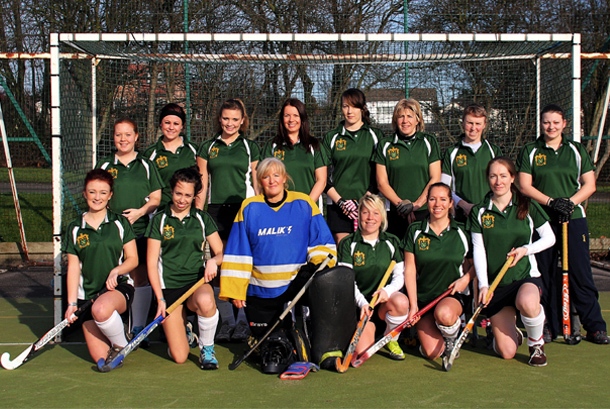 Alnwick left a frosty Northumberland at 7.30am, so an early pitch inspection was required. Steve Wood pronounced the pitch playable at 8.15am to the complete shock of the Slaz captain who from her duvet viewed a totally white landscape (and wanted to stay there). Both the frost and early arrival seemed to affect Alnwick who started slowly, allowing Slaz to settle into their formation and constantly attack. The home team had numerous shots and short corners and were unlucky not to convert sooner than 20 minutes into the game, when Andrea Wallace spotted a chance to meg the Alnwick keeper from a short corner.
The opposition found it hard to respond to the continual pressure, struggling with the Slaz 3/4 pitch press and thinking their only option was to blast it as hard as they could. This worked to the advantage of Slaz who picked the ball up and attacked swiftly time after time….until veteran striker Mandy Sowerby managed to trap her thumb between her stick and a fast approaching ball. An initial request for ice turned into a trip to Pinderfields after she couldn't hold her stick to go back on (broken in 3 places and requiring pinning, bad news for Slaz – our best wishes go to the birthday girl).
Slaz made sure the departure of Mandy did not affect them (in fact a few didn't realise she'd gone at first), concentrating on obeying an earlier mandate (for once) to finish the game by half time. Consequently some excellent linking play resulted in two fantastic goals by on form striker Sarah Cooper taking Slaz into the half time break leading 3-0.
The 2nd half should have been a chance for Slaz to improve goal difference but having been told to win by half time; and thinking they had done so, they seemed content to sit back and enjoy the hockey. The defence were cool and collected and there was tireless work by all the midfielders, so the return of Ailish Hendry, back after exams was most welcome. Slaz attacked a tiring Alnwick for most of the second half; a special mention goes to player of the match Jessica Rudge who couldn't seem to hit a barn door this week but never stopped trying. Six points out of the last two games make a happy team who will be even happier with a trip to Hull on the minibus to look forward to next week.
Team photo:Back row (left to right) Donna Simpson, Sarah Hobbs, Katie Firth, Helen Hough (captain), Laura Teasdale, Mandy Sowerby, Andrea Wallace, Kelly Whittam; Front row (Jessica Rudge, Ailish Hendry, Elinor Townend, Claire Mills, Hayley Wood, Sarah Cooper,