Weekly Update
An update of this weeks fixtures and last weeks results
Last Week's Results
The "Team of the week" result this week goes to the Men's 1st's for achieving promotion into the Yorkshire Premier League!
Last weekend also saw the first games of March; a lot of goals scored, and plenty of goalscorers, including some brand new names on the list! There's still games to play this season and every change to get your name in lights so get scoring!
March Top Goalscorers
3 Goals – Richard Tuddenham
2 Goals – Aleks Karpinska, Caro Schofield, Holly Tyres, Hannah Field, Alex Stacey
1 Goal – Claire Dunstan, Tim Carr, Harry Gunning, Asad Baig, Katie Minchella, Ian Hedges, Scott Carruthers, Stacey Drake, Tom Hyde, Amy Brereton, Steve Fealy
Last Week's Match Reports
Men's 1st's (4) vs. (1) Leeds 5th's
In the penultimate game of a relatively productive season the firsts secured a promotion win at home to Leeds. Great news of course – unless you are one of the five players over the age of 40… Nevertheless Yorkshire Premier League it will be next season for Slaz 1's! Although it's fair to say that if they start games as they did last Saturday, next season will be a tough run.
Despite Tuddenham opening the scoring early through a keeperless short corner Slazenger lacked any real potency from the start. Movement off the ball was as dynamic as a McDonalds trainee, and players already appeared exhausted from their three minute warm up. Leeds however pressed time and time again through their pink gloved assassin who took apart Drake in defence to tap a soft goal past Loftus. With minutes to go in the first half Swindarln scored to put Slazenger into an undeserved lead. Queue the half time inspirational telling off from disciplinarian Captain JP White. The second half opened with some improvement, smooth passing play was evident from Dunstan and Chilton in particular. As if by magic the improved distribution (once again) lead to goals as Perry and man of the match Tuddenham found the back of the net. All in all it was a satisfactory performance from Slazenger that secured them a 4 – 1 win and promotion back to the more competitive realms of Yorkshire hockey.
Men's 2nd's (2) vs. (4) Driffield 2nd's
Slaz travelled out to Driffield 2nd's, expecting a tough battle with the high flying North Yorkshire outfit, and were not dissapointed. However, Driffield in turn did not get the easy 3 points they may have expected.
Both teams started quickly, and quickly found that while there was some strong attacking, both teams absorbed the pressure and the game was locked in a tightly fought contest. Eventually, Driffield took the lead, but it wasn't long before Slaz hit back, Ben Graham setting up Ian Hedges to slot the ball away at the back post.
The game was similarly close, and when Driffield scored again, man of the match Hedges set up Asad Baig to net an equaliser.
Slaz pressed to take the lead, but infuriatingly several shots going wide. Worse stil, at the other end, Driffield were more clinical, putting away 2 goals in the final 10 minutes to take the points. Slaz will be somewhat disappointing that they couldn't convert the pressure and take the 3 points, but another strong performance bodes well for the final few games of the season.
Men's 3rd's (2) vs. (3) Sheffield Uni Bankers 6
Slazenger hosted Sheffield in a bottom of the table clash that could go a long way to decide the future league for both clubs. The home side settled in early and was playing some lovely passing and moving hockey which resulted in a strong move down the right before a very well placed finish from Tim gave slazenger the lead, slazenger continued to play and after a good battle in midfield a quick break resulted in Scott finishing a well worked move.
Unfortunately for Slazenger, Al decided to try and save someone's life by attacking a flea on the back of an opponent in the style of rumble in the jungle resulting in a yellow card, with the reshuffle and substitutions Slazenger seemed to struggle and despite continued running from man of the match Matt Banks the right side was heavily overloaded with attacks and soon Sheffield were one goal behind.
Slazenger continued to struggle with the changes and injuries and Sheffield soon drew equal, the game seemed to even out with both teams attacking for the win, unfortunately for slazenger it was Sheffield who got the vital 3rd goal and with it the 3 points
Men's 4th's (2) vs. (4) Sheffield Uni Bankers 7
Slaz travelled to Sheffield University Bankers on Saturday morning and looked to gain a result away from home after a break due to the snow. Sheffield had the better of the early exchanges as they looked to get through the Slaz defences. Slaz looked vulnerable at the back and this proved after Sheffield managed to score 3 in the first half to lead 3-0 at the break.
Slaz knew they had to perform better in the second half to come away with a respectable result. A slight change in formation and a more attacking mind-set meant Slaz started the second half much more positively than the first. However, Sheffield were the team to score first to effectively put the game to bed. Slaz continued to fight and managed to score two from a short corner for Steve Fealy and a deflected cross from Tom Hyde meant the final score was 4-2 to Sheffield.
Man of the match went to Steve Fealy for some good play all around the pitch.
Men's 5th's (2) vs. (2) Ben Rhydding 8th's
Men's 5ths draw 2-2 with Ben Rhydding 8ths. Both goals from Alex Stacey
Ladies 1st's (5) vs. (4) Dewsbury 1st's
After some confusion with Claims of weddings leaving them short, Dewsbury's welcomed the ladies 1's to Heckmondwike for their return fixture without a bride in sight. Slaz new the game wouldn't be easy after their first encounter, but were determined that they would come away with the 3 points needed to maintain their promotion hopes. Slaz started strong, taking the ball straight to the Dewsbury D, but a number of chances went begging. Dewsbury, sensing this maybe their day seized opportunities gifted to them, but keeper Wilson showed that it may not be theirs either.
The first goal went to Dewsbury, but Slaz were quick to level the score when Field took the ball around Dewsbury's defence before delicately placing it over the keeper. They didn't leave it long before Bates took a long corner, passing it short to Wallace for her to cream it goal bound – Tyres seized the opportunity to put Slaz ahead as the ball grazed her stick on its way into the net. Field was again on form and with a quick ball from the back going straight to her on the halfway line she again showed the Dewsbury team her skills bagging number 3 for Slaz. Half time score 3:1
The second half saw Dewsbury come back strong and pressurising the Slaz defence who worked tirelessly to keep them out. Unfortunately they made 2 breakthroughs and managed to level the score. Slaz could see the points slipping away, and began to show grit, determination and the immense team spirit that has taken them to the well earned 2nd spot in the table and with Tyres chasing the teams top goal scorer for the season got her second and Slaz's forth. After a goal mouthy scramble shortly after, Mini Minch was on hand at the back post to tap in the fifth.
A short corner for Dewsbury in the dying minutes saw them claw back to 5:4, but by then the points were safely with Slaz. Slaz travel to Wakefield next week in to take on their 3's in their penultimate game of the season – with a 3pm push back
Ladies 3rd's (4) vs. (2) Adel 5th's
Slazenger's ladies 3s got off to a flying start in their game against Adel with the hope of gaining 3 points to maintain their high stance in the table.
Right from the start Slazenger's dominated the game with great finishing and accurate passes from the defence line through midfield to the forwards. CF Caro Schofield was the first to find the net, shortly followed by a skilful manoeuvre and solid finish from Aleks Karpinska. Schofield got her second after a deflection by the defence and Karpinska also bagged another goal as the pair fight for leading goal scorer. As the half time whistle blew Slazenger's found themselves 4-0 up.
However as the second half began, Adel seemed to come back stronger pulling the score back to 4-2 despite great saves from Lisa Chappell in goal. Slazenger's quickly changed their attitudes, becoming more attacking but failing to hit the net despite near misses from Scholfield and Emily Chason. Fantastic defending by Sarah Hobbs, Emma Eley, Jess Downing and Esther Hill concluded 4-2 as the final score.
Player of the match was shared between Schofield and Chason who had shown her midfield dominance. A great win from Slazengers resulted in positive attitudes going forward into their final match of the season on 24th where a win should secure the much desired promotion. Spare a thought for captain Lizzie Tunstall who missed her flight and failed to make the game.
Ladies 4th's (P) vs. (P) Dewsbury 1st's
Match Postponed. Opposition couldn't get a team together.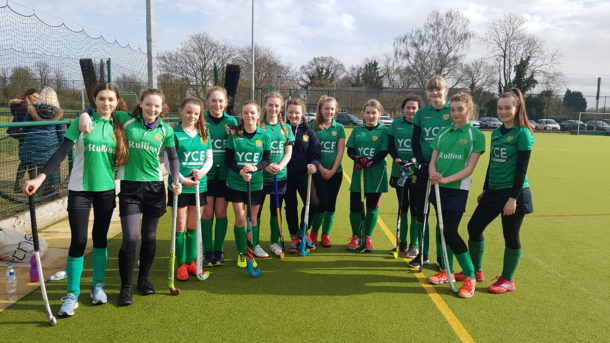 Girls U12
Slazenger u12 continued their first season together with some great results for the inexperienced team. The girls have all been on a sharp upward learning curve and have all done themselves proud. A hard fought 0-0 draw against Thirsk found Courtney Riley making a couple of great saves. Sophie Fletcher and Isabella Kidd worked hard in defence with Millie Brierly making some good runs into space up front. Next up was another goalless draw, this time against Harrogate.
The rookie Slazenger girls grow in confidence with every game and this time Harrogate were troubled with great midfield work from Ruby Rogers, Eleanor Randle and Thea Godson. A very strong Sheffield side were next who managed to score 2 goals , Lilianna Anderson and Molly working hard from midfield to help out their defence. The young Slazettes some as young as 7 tired towards the end of the final game against Ben Rydding ending again in a 2-0 defeat. Next season will surely see the girls shooting up the leagues.
Boys U12
Despite a great start in division C with a 0-0 draw, Slazengers U12 boys were unable to turn pressure into goals and lost the next three 1-2,0-1 and 0-1. A Tommy Randle thunderbolt was the only reward they had to show for all their effort and hard work ,it what turned out to be the most evenly contested league we had played in as most games were won by a single goal margin. The majority of the squad will be eligible to play again next season and the game awareness of playing in the monthly tournaments has been of great benefit.
Girls U14's
Slazengers travelled to Pocklington for their final tournament of the Season. (Huddersfield dropped out of the tournament due to team shortages). Team photo attached.
Ben Rhydding 3 V slazengers
The girls started strong and pushed forwards looking to create chances from the off. Unfortunately Slazengers lost their shape for a moment and Ben Rhydding took advantage to take the lead with their first goal. Undeterred Slazengers continued to press and were controlling the midfield, excellent tackles from Bethan Elsworth, Grace Robertson and Elizia Stewart meant they were winning the 50/50 balls and distributing it quickly to start the breaks upfield. Cherry Bedford, Mia Davis and Maisie Davis worked hard, which paid off with Cherry making it level with her first goal. Moments later Ben Rydding came back with force and made it 2-1.
Play continued with great support from midfield driving the ball consistently to Slazengers attacking forwards, eventually their hard work paid off with a goal from Mia to make it level again. Three more goals then followed in quick succession from Maisie and cherry giving cherry her first hat trick of the tournament. On the final whistle a short corner was awarded against Slazengers which resulted in a penalty flick. Despite Maisie Royston best efforts Ben Rhydding scored. A real show of talent, fitness and team spirit transpired and ended in a 5-3 win to Slazengers.
Scarborough V Slazengers
Slazengers were straight back on the pitch with only 5 minutes rest from their last game but with renewed confidence went out hard and fast from the first whistle. A lucky strike from Scarborough gave them the lead which was short lived when Mia Davis brought it back level. Both teams were evenly matched and ball travelled from end to end, Slazengers quick thinking and movement of the ball gave Maisie Davis an opportunity to score which was not missed, which left Scarborough picking the ball from the back of their net.
After a miscommunication in the Slazengers defence Scaborough were awarded a short corner which they took advantage of and a solid strike from the top of the D left the score at 2-2. Scarborough found their stride with a good few a attemps on goal which were saved by Maisie and an excellent on the line stop by Nicole Hirst denied Scarborough a further goal but Scarborough's pressure gave them a further goal to make it 3-2 to Scarborough. Slazengers never gave up and their persistence paid off with a further goal from Cherry Bedford. The defence kept fighting until the end but conceded two more goals leaving the final score 5-3 to Scarborough.