Weekly Update
An update of this weeks fixtures and last weeks results
Last Week's Results
With a tough weekend of results, this weeks' "Team of the week" is the Ladies 3rd's after their 5-3 win against the Ladies 4th's. However, notable mentions go to the Ladies 4th's for their part in the fixture, and the Mens 1st's for their 5 goals in a 10 goal thriller against Rotherham 1sts.
Last weekend saw the first games of December. Tuddy is back on top, netting 4, but there are still plenty of games left before Christmas, and plenty of time to score goals!
Novembers Top Goalscorers
4 Goals – Richard Tuddenham.
2 Goals – Aleks Kapinska, Caro Schofield.
1 Goal – Ben Jackson, Matt Banks, Mia Davies, Harry Gunning, Danny Croxall, Diane Jones, Paul Johnson, Lyn Wood.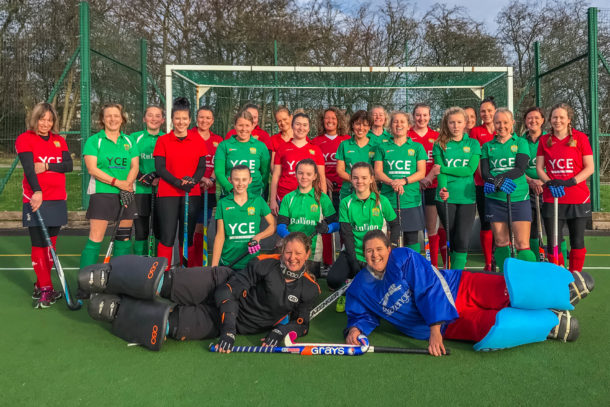 Last Week's Match Reports
Men's 1st's (5) vs. (5) Rotherham 1st's
Slaz 1s resumed their bitter rivalry with Rotherham who they hosted in a top of the table clash with the home side looking for revenge after an early season defeat which featured the now infamous wee-gate incident. Missing star winger Danny Perry due to a badly scheduled spray tan and ageing squad filler Maff Birkett, Slazengers recalled portly Mars Bar sales man Phil Midgley from the Valley.Slaz, for once, started well controlling possession against their monosyllabic opposition until an innocuous aerial ball over the top was left by the Slaz keeper, Andy Loftus, due to an ill-judged call from Midgley. Inevitably the ball rebounded off the post for an easy finish by the Rotherham striker past the flailing Loftus. A rattled Slazenger were quickly two down before Richard Tuddenham converted a short corner from a well worn routine. Rotherham hit back with a short corner goal of their own before Tuddenham doubled his tally to leave it  a 3-2 at the break.
Down but not out, Slaz began the second half with vigour and Tuddingham drew Slaz level. However Rotherham showed that their top of the league position is not purely down to the helpful umpiring that they receive in home games and quickly scored two scrappy goals. 5-3 down with time running out it was time to stand up, with youngster Chilton, Gascoigne, Dunston and Gunning battling well, the later gave Slaz hope with a wonderful reverse stick finish. Slaz, now dominant, brought the home crowd to their feet with Tuddenham tucking home from Mark Swinden's powerful cross. 5-5 it finished as Rotherum trudged off with many of their players refusing to acknowledge the umpires or their morally superior opposition.
With these teams still where they began the day in the promotion positions in Yorkshire Division 1 we are left to wonder whether this rivalry will be resumed next season in the Yorkshire Premier league and whether Slaz want to.
Men's 2nds (2) vs. (5) Rotherham 2nd's
Some of the mens 2nd's travelled down the motorway to Rotherham for the away leg of this league fixture. Having come off second best in a closely fought encounter at the beginning of the season, Slaz were looking to capitalise on their recent good form to bring home 3 points. Unfortunately, wracked by availability issues, including some last minute problems meant the team travelled with 11 men, which was made worse when Jez "gets lost in housing estates" Whawell lived up to his nickname, and the team had to start with 10.
Slaz however, started the brighter and after weathering an aggressive Rotherham attack; with keeper Daz Buttery pulling off some fantastic early saves, the team looked in control. It looked as though the fates were smiling on the visitors, when a rebounded short corner shot from Asad Baig was tapped in by stand-in-captain James "Dodge" Taylor, and Jez arrived on the pitch to complete the 11 man team.
However Rotherham showed they were not going to be a pushover, taking advantage of some advantageous decisions to capitalise, going into the break 2-1 to the good.
The second half went the way of the first, with Slaz looking to equalise, but failing to find a rhythm. Rotherham hit fast on the break, and took a commanding lead at 4-1. When Slaz found their feet, they struggled to make it count. Ben "Thriller" Jackson slotted home a second from a well worked attacking run, but when Baig put a flick over the net, and series of penalty corners were not converted it looked like the game was slipping away.
However, it wasnt over for Rotherham, making the most of well timed advantage to bring their tally to 5.
Men's 3rd's (2) vs. (5) Huddersfield 3rd's
Slazenger entertained Huddersfield in what looks likely to be a battle for survival, Slazenger started the game strongly with some good passing and quick attacks however it was a similar story to the season that against the run of play Huddersfield on a counter attack got a short corner from which they scored.
Slazenger seemed to be affected by this and struggled for composure through the rest of the game, however with some good work through the middle a short corner was won where Perry played a great out ball for Paul Johnson to strike cleanly bringing the scores level. In what was to be a similar story however, Huddersfield soon had another short corner to which they scored and went into the half time break 2-1 up.  A strong half time talk seemed to have woken Slazenger up as PJ won plenty of tackles and the midfield trio of "James blunt", "Fish", and "God" were all able to find passes, and through some strong attacking down the wings another short corner was won. Al again aimed for PJ but instead found Matt "God" Banks who was able to adjust and drill a bending shot straight past the keeper to level the scores back up. Unfortunately rather than spur on Slazenger this seemed to wake up Huddersfield who got back with two quick goals.
Despite some strong running by Tim and Roo upfront, trying to harass where they could the play was at the other end of the pitch. Slazenger defenders tried to stop the bleeding and some strong saves from Harry "Micro" Buttery kept the scores respectful. However, despite the energy from Slazenger it was Huddersfield who scored two more goals that meant Slazenger went home with no points and a bitter taste of defeat on an evening that could have been so much more.
Men's 4th's (1) vs. (3) Wakefield 7th's
Slaz travelled to local rivals Wakefield as they looked to continue their run of recent performances and pick up a result in the derby.
Slaz started on the front foot as they looked to grab the opening goal which would be crucial in a game like this. Early chances were created for both sides as Davy Ramsdale went close. However, it was the home side who opened the scoring as they took a well created chance on the left post. Slaz went into half time undeservedly behind 1-0 in a very even game.
The second half was much of the same as both teams look to attack in a very end to end game. Slaz continued to create chances through Chris Flavell and Peter Gunning. Eventually, the equaliser came through a well worked short corner finished off by captain Danny Croxall to deflect the shot of Josh Hujwan past the keeper. The game was very much in the balance going into the last 20 minutes. Both teams were searching for a winner when a goal came for the home side through another deflection. Slaz looked to bounce back again and continued to attack but without no end product. This left a lack of numbers back in the Slaz defence and Wakefield finished the game with another goal and eventual winners 3-1.
Man of the match went to Darren Bailey for a superb defensive effort which ultimately didn't get the deserved rewards. The performance was another improvement in what has been a great few weeks for the 4s. Next week Slazengers play Sheffield Hallam 8s at home at 3 o clock.
Men's 5th's (0) vs. (1) Halifax 5th's
Having well beaten Halifax last time out we travelled there unsure what type of team they would field this time.  Slazenger were soon to find out there weren't too many young players and 5 adults on the pitch at any one time.  With great character Slazenger started well with their impressive game with some great chances but were unable to beat the opposition adult goalkeeper.
Having made some substitutions Slazenger lost their structure and began to struggle, having to defend determinedly for  half the game.  Halifax converted well a short corner to go 1-0 up.  Man of match Lucas Smith worked hard in the middle with Alex Stacey and Tommy Randle. Some good saves made by Aidan Coughtree in goal kept us in the game and even a late super sub of Matt Green wasn't enough to draw level.  Well done to whole team.
Ladies 1st's – Postponed due to snow
The ladies hoped to gain their 7th win on the bounce with a trip east past Sunny Scunny to Brigg. With a few absentees (not solely due to other commitments!!) the final squad was uncertain throughout the week.  With Fillingham called up to make her debut in goal, we were up for the challenge. Worries that the game would become a victim of the weather subsided as the meet time drew near, but little did they know that Captain Tyrrell's napping meant that word didn't get through until the eleventh (well 10th really) hour. "Brigg's pitch still has a covering of snow"Fillinghams'  disappointment was clear for all to see, but a game with the 2's and a promise of first refusal next time a keeper is needed helped make up for it. The 1's remain unbeaten in 7weeks so are still a happy squad.  Next week sees a double header with Wakefield 3's making the short journey to Slaz on Saturday and then Slaz hoping to fulfill this weeks fixture with Brigg on Sunday.
Ladies 2nd's (0) vs. (6) Leeds 3rd's
After their first win of the season, and a week off due to a frozen pitch, the ladies were raring to go against a strong Leeds team which were second in the table.
The ladies had a confident start and their efforts going forward were rewarded with four short corners in quick succession. Unfortunately, none were converted but the game was very even and they were in high spirits. The ball was moved well from the back, with some great work down the lines and running into space. The forwards were looking for a goal as their pressure in Leeds' D was promising. The quick short passes were working well all across the pitch however they were still unable to get the ball in the back of the net despite a few chances. A fast Leeds team took advantage of the counterattack and were close to scoring but the defence were composed and managed to stop them. The short corners were well defended and there were no goals for the Leeds side. The score was a positive 0-0 at half time.
The second half proved challenging for the Slaz side with keeper Lizzie having to make some vital saves. However it was hard to stop their well worked short corner which opened the scoring early in the second half. Leeds' chances then came thick and fast and they didn't miss their opportunities. Within minutes, the score was 3-0 to the away team. Slaz were tiring but continued to work hard and still managed to stop the quick breaks. The home team's heads dropped slightly and Leeds managed to get 2 more goals later on in open play. An unlucky deflection on the line by Slaz at a short corner made it 6-0 with minutes until the final whistle. The pressure was still being piled on Slaz in their half and the home side rarely managed to get in the opposition D resulting in few chances. Despite this, the work rate didn't drop and the defence kept strong until the end with good clearances to deny Leeds of any more chances. Final result 6-0.
Ladies 3rd's (5) vs. (3) Slazenger 4
The match of the season……….not sure whether this has ever happened at Slazenger's. Ladies 3s did not have to travel far for this match, however a change of kit was required, from green to red shirts and socks to face the Ladies 4s at Slazenger's.
This was going to be a very interesting match, with both teams a little nervous. Ladies 3s took first push, starting off strong. However, this was short lived as the ladies 4s took control and quickly passed the ball up the pitch to ladies 3s 'D'. Ladies 4s had a few shots on goal, but these were thwarted by ladies 3s defence, Emma Eley, Maisie Fallas, Jess Downing, Esther Hill and good keeping from Lizzie Tunstall.
The ball was quickly passed back up the pitch through the midfield, Justine Birkett, Emily Entwistle and Lauren Fealy to ladies 4s 'D', where ladies 3s forwards had numerous attempts on goal, Caro Schofield, Di Jones, Josie Hughes and Aleks Karpinska. Ladies 3s were finally able to connect with the back boards of the goal, with Aleks Karpinska completing.
This did not deter the ladies 4s and they were hungry for a goal, which was completed from a struggle in the 'D' and the ball was slipped over the line into the goal. Ladies 3s upped their game and drove the ball hard to the other end of the pitch. A few attempts on the goal and Diane Jones claimed a goal.
Half time score Ladies 3s (2-1)
Ladies 4s took second half push back and they were hungry of a goal. Ladies 3s where not going to back down lightly!! Equal play and short corners from both teams in the second half saw ladies 4s rewarded with a second goal. And ladies 3s determined to not leave this game as draw, pushed onto convert three further goals with Caro Schofield claiming 2 and Aleks Karpinska claiming 1. Excellent work from Ladies 3's midfield; forwards and great defensive work, enabled ladies 3s to come out on top.
Ladies 4th's (3) vs. (5) Slazenger 3rd's
Slazenger ladies 4's played Slazengers 3rd team this weekend and despite the 4's expecting a challenge, it's the game they were all looking forward to. The 4's dynamic warm up started the morning well and by the time they got to shooing the chickens – the 3's knew the 4's meant business!
The 4's looked good from the first whistle and attacked strongly with good opportunities up front. However, within minutes, the 3rd team had a fast break up the pitch and scored. Undeterred, the 4th team responded and managed to keep their attackers busy with great runs from Lily Gilbert on the right and with several short corners given by the 3's. Maisie Davis, Mia Davis and Cherry Bedford all proved their worth with quick passing and movement until finally Mia Davis found the goal.
The 1:1 score line was unfortunately short lived and before half time, The 3rd Team scored again.
At half time and feeling very pleased with themselves, the 4's came back out as enthusiastic as ever which even after another goal from the 3's shortly after didn't knock. The 4's held their own, Lauren Hattersley in goal prevented several more goals against with Linda Stacey clearing the ball to reach up front. Lyn Wood pushed up in mid-field and her first ever goal for the club pulled the game back to 3:2.
Unfortunately, the 3's showed their worth and with 10 minutes to go, scored 2 further goals. A 5:2 defeat for the 4th team but a really good game of hockey. Player – Lauren Hattersley.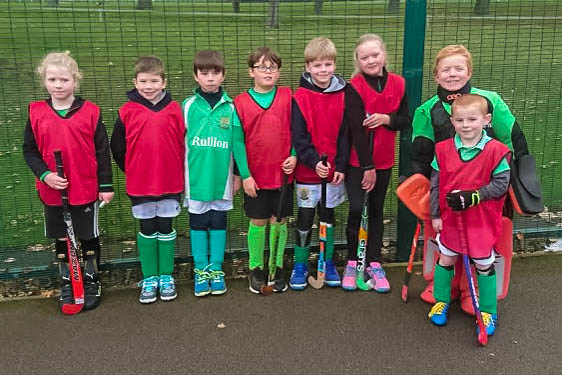 Boys U10's
A promotion in the last competition left Slazenger feeling strong and ready for action in this tournament. Despite absences from two of the leading goal scorers, the team were confident.Harrogate were first up. Slazenger struggled to gain much possession in the Harrogate goal area due to the very strong mid-field. Henry Milfull's goalkeeping offered an amazing kicked save. Sadly, the next three shots on target managed to fly past to secure them a 3-0 score. Some great defensive clearances by Kiki Barden-Nash and Tobias Hoyle did help to reduce the damage.
Next up were Huddersfield Dragons. A very strong start from Slazenger put the pressure on them straight away. Two misses on goal gave Owen Coughtree a third opportunity which he took to score Slaz their first goal. Slazengers' solid defence kept any advances by Huddersfield at bay. A strong pass by Dan Bailey gave the centre mid (Edward Farrell) opportunity to take several shots on goal until finally getting it past their keeper. This gave Slazenger a 2-0 win.
Driffield played Slazenger in what was to be a devastating match. Slaz proved to hold their own for the first few minutes, showing no fear against a more mature opposition. It was even suggested from the sideline that some of these players could have actually been small adults! (The Assistant Team Manager also claiming to have seen more than one Driffield player with a moustache). The valiant defence from Slazenger soon came to an abrupt end when a Driffield striker scored with an outstanding drag-flick. Two strong saves by Owen's debut goalkeeping position delayed the inevitable. Shortly before the Team Manager began to weep, another 6 goals fired past leaving the score 7-0 to Driffield.
Slazenger last game was against Bingley Bee's. This was a match more balanced with the Slazenger abilities. The only obvious difference between the teams was Bingley had a very effective Goalkeeper. Harry Ashford and Edward made countless shots on goal only to be saved time and time again. Harry eventually scored after Slaz were 2 goals down leaving the final score 2-1 to Bingley.
Boys U16's
Slazenger Boys U16's had the home field advantage hosting the latest division 2 tournament at Slazengers. However the level of competition was high and it wasnt going to be as easy as they thought.
The first game was against a well drilled Ben Rhydding side. Rhydding were well organised and defended as a unit. A sleepy Slaz were unable to utilise the skills they had to penetrate the defence. While the opposition attacks were snuffed out, the teams stayed locked at 0-0, where the game ended.
Slaz next took on tournament favourites City of York. It was clear that they were fit, well drilled and well organised. The midfield trio of Owen Bland, Josh Dunstan and Katie Minchella worked well, and showed Slaz had learned some lessons from their first encounter. However an unfortunate pair of defensive slip ups meant allowed York in and they converted to take a 2-0 result. Some good defending by Josh Swallow, and James Armitage alongside goalkeeper Harry Buttery kept the deficit to 2-0.
A reorganisation of the squad for the final game reaped rewards. Bland coordinated the defence, with Will Fealy, Dunstan and Minchella running midfield. The team looked brighter and put in a much improved performance, with several early chances to score through Ben Mace. However, it was Jack Lee who provided the winner to take the result 1-0 and stay in division 2.