Weekly Update
An update of this weeks fixtures and last weeks results
Last Week's Results
This weeks' "Team of the week" is the Men's 1st's, after their impressive 7-1 victory at Leeds 5th's, including a double hat-trick for Richard Tuddenham! Notable mentions also go to Ladies 1st's for continuing their winning run, and Men's 4th's for their beating of local rivals Huddersfield 4th's.
Last weekend saw the final games of November and the results are in. While the ice prevented some games from going ahead, Tuddy made the most of it to put 6 in, moving to the top of November's table. Everything resets for December, so get scoring!
Congratulations to Will Buckley, Holly Tyres, Keith Stevenson, Harry Buttery and Harry Gunning for being awarded their Level 1 Umpires award at the weekend!
Novembers Top Goalscorers
11 Goals – Richard Tuddenham
8 Goals – Aleks Kapinska
6 Goals – Caro Schofield, Holly Tyres
Last Week's Match Reports
Mens 1st's (7) vs. (0) Leeds 5th's
The men's Firsts continued their unbeaten run this week with a win away at Leeds. You would expect a 7 – 0 scoreline to be indicative of a barnstorming performance, however it would inaccurate to report that Slazenger were at their best last weekend.
There were notable performances from Tuddenham with a double hat-trick, and from Man of the Match James Swinden. But on the whole it was a 'business as usual' performance from Slazenger that kept them up in the promotion places.
Mens 2nds (2) vs. (6) Driffield 2nds
Slazenger hosted league 3 high flyers Driffield 2nds on Saturday. The visotors startedthe stronger, but it was captain Ben Graham who scored against the run of play. After a period of dogged defence and excellent goalkeeping from Daz Buttery, a combination of disorganization and individual errors saw Driffield capitalise with 4 goals in quick succession.
Slaz went into the second trailing, but came out a different side. Playing more expansive, possession hockey, the side brought pulled themselves back into the game, creating more opportunities.
It was unfortunate that the home side were unable to convert several chances, with birthday boy Mark Hammond netting the only slaz goal of the half. Driffield netting from a well taken drag flick and an individual effort to take the spoils.
Mens 3rd's – POSTPONED DUE TO ICE
Mens 4th's (1) vs. (0) Huddersfield Dragons 4th's
Slaz looked to continue their string of impressive performances against Huddersfield who were in a similar league position as Slaz so it looked to be an interesting matchup. This match was also extra special as Slaz legend Tony Walker was celebrating his 50th anniversary of joining Slazengers. A great achievement for such a clubman and was greeted onto the pitch with a guard of honour.
Slaz started well as they threatened through Tom Hoyle, Chris Flavell and Pete Gunning but to no avail. Huddersfield also created pressure but without any real chances thanks to the defence of Tony Walker and Darren Bailey. Slaz managed to get the opener just before the break through Peter Gunning after a great move set up by Alex Jolly and Josh Hujwan. Slaz went in 1-0 up.
The second half was a much more open game as Huddersfield looked to threaten again but the back 4 were playing superb. Going into the last 15 minutes the away side managed to win numerous short corners but thanks to the outstanding keeper Adam Garside, Slaz were able to keep a much deserved clean sheet and win there first match in November after a great game.
Man of the match was tied between Adam Garside and Tony Walker which shows the defensive effort that was put in  to get the reward of the clean sheet. On Saturday Slaz travel to Wakefield 7s in a much anticipated Derby match.
Mens 5th's (1) vs. (1) City of York 10th's
This was a game of two very evenly matched sides, neither one being able to dominate the midfield and both defences, and keepers, having to work hard. York scored first in the first half with Slaz replying fairly swiftly from a well worked penalty corner. Slaz keeper Aidan Coughtree was their man of the match  – final score 1-1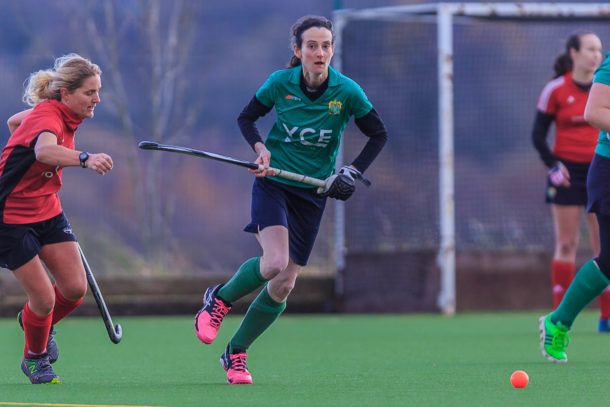 Ladies 1st's (4) vs. (1) Dewsbury 1st's
It was cold as ice and with the pitch unplayable for the early game, the ladies 1's played the first game of the day against Dewsbury.
On a special day celebrating Mr Walkers half century playing for the club the ladies hoped to get the party started with another win.
Despite the cold, Slaz were walking on sunshine after a run of 5 wins and the question on everyones lips today was "who wants it??"
Taking the first push back Tyres seeing the glisten of the golden stick took matters into her own hands and with the wind beneath her wings whittled past the defence and after a couple of passes slipped the ball passed the keepers outstretched foot into the back of the net.
The young guns were having some fun with the younger Gilbert strong on the right while Mini Minch worked the left side. It wasn't long before Minchella took the ball into the D and having seen her first shot saved, picked the ball up on the reverse and with the eye of the tiger saw the gap and quickly fired the ball goal bound.
The mid field were strong, stronger and strong enough making it clear to all that they don't play no game that they cant win.
With the temperature rising, on the stroke of half time (reminiscent of last weeks end to the game) a short corner was awarded to Slaz. There was no reason to go to a flick this time, the team who clearly don't stop believing converted the well worked set play courtesy of Hannah Field.
Half time score 3:0
The second half saw Dewsbury launch a fight back and after a sustained attack converted a well worked short corner.
Defensively – working as a unit no further chances were given and play returned to the other end of the pitch. Mini Minch took the ball – Gilbert the elder gave the call, and was able to pass the ball through the keepers feet into the goal.
Final score 4:1
Special thanks go to Will Buckley and Dave Brereton for umpiring. MVP this week was a 3 way split with Paige, Bubbles, and Tyres.
Ladies 2nd's – POSTPONED DUE TO ICE
Ladies 3rd's – POSTPONED DUE TO ICE
Ladies 4th's (0) vs. (4) Halifax 5th's
With snow on the hills all around, the ladies 4th team were pleased to find a clear pitch, though the wind made it feel extremely cold. However, Linda Stacey cleverly avoided the freezing temperature – 5 minutes into the game deciding that heading the ball would be a good way of defending and getting to a warm A and E. She was last heard re-planning how the team should lineup without her. Running on adrenalin, Slazengers then had a barrage of short corners against them which Lauren, Jo, Em and Sara defended really well.
Unfortunately, Halifax managed to get 2 past us by half time and we were unlucky when Maisie Davis' shot went wide. The second half saw some great saves from Lauren Hattersley but without Linda, and some good presses against us, hit outs were difficult to get down to the other end. A great run and chance for Cherry to score just went wide, and Ashleigh Jones was all over the midfield and defence in her debut, earning a well-deserved Player of match award.
The final score of 4-0 was very respectable given that we didn't have some key players and were playing five 13 year olds in very uncomfortable conditions. Thanks to Justine who came to sub then ended up playing all the game bar 5 mins and who nearly got Tart due to her shoes falling apart and requiring taping up to hold them together. Thanks to Jo too, who gave up a trampolining event in order to support a team in need.