Mens 1st's (6) vs. (3) Thirsk & Malton 1st's
Slaz 1st's wrapped up a high scoring home encounter with North Yorkshire opposition Thirsk & Malton. Thirsk started briskly, their younger side were sprightly on the ball, zipping across the pitch and looking threatening from the off. Slazengers took a little while to warm to the occasion, however a rapid attack from Dan Perry won a penalty corner, which Richard Tuddenham slotted away. Thirsk continued to look threatening, but a defensive lapse form the team allowed Mark Swinden to go clear and slot it past the keeper to put Slaz clear. With the visitors heads down, the Horbury men consolidated with 2 further goals; a well worked team goal orchaestrated by the Swinden brothers, followed by a solo run from Matt Chilton, both wrapped up by Tuddenham.
In the second half the hosts again struggled to get going, with Thirsk taking advantage and converting pressure to open their account. At the other end, Tuddenham netted another pair of goals in response, helped along by midfielder Paul Wiper. However, it was far from over with defensive errors from the Horbury team allowing Thirsk to capitalise with 2 solo efforts defeating keeper Loftus. Fortunately, the Thirsk response came too late and Slaz saw out the win.with a 3 goal cushion.
Mens 3rd's (7) vs. (0) Huddersfield 3rd's
Slazenger 3s went into the match against Huddersfield needing to break a recent run of consecutive draws and it was a cautious start from the visitors with some slow passing and little opportunity being made. Harry buttery made a good early save which kept the scores level before eventually slazenger started to get back to the game they love to play, passing around the Huddersfield team and man of the match Matt banks was controling the game through the midfield, it wasn't long before daz buttery opened the scoring with a deft tap in after good work from Brian down the wing. It wasn't long before slazenger doubled their lead and went into half team clearly the team on top. Slazenger then carried on from where they left off with constant attacks against Huddersfield which resulted in further goals from daz and pj. The moment of joy however was saved for goals from Andrew birket who despite his penalty flick miss last week showed true character getting back up front and knocking in two goals this week. Overall a great return to form from slazenger who eventually took the game 7-0
Mens 4ths (1) vs. (4) Brigg 4ths
Slaz 4s continued started their run of 4 home games against the promotion chasing Brigg. The first half didn't start brightly for the home side as Slaz were constantly defending in their own 23. Eventually Brigg made their pressure count and scored within 15 minutes. The away side added 2 more in the first half to make it 3-0 at Half time.
Slaz started the second half much more brightly after a change in formation and a more advanced role for Dene Minichella who was a major part of the Slaz offense. Eventually Slaz got on the scoresheet through striker Steve Johnson to make it 3-1. Slaz continued to push forward but with no luck and eventually Brigg scored one on the break to make the final score 4-1 to the away side.
Man of the match went to Tom Hoyle for his great play down the wing. Next week Slazengers 4s welcome local rivals Wakefield 6s.
Mens 5th's (1) vs. (1) Rotherham 4th's
Rotherham piled the pressure on Slaz for the first 10 minutes, with Dene Minchella and Paul Chilton having to work hard as the ball repeatedly came back at the D, the pressure finally resulting in a well taken goal. This gave Slaz their wake up call they needed and they started to protect the ball and playing their slick passing game, keeping the game even to half time with no further score. (HT 1-0)
Slaz upped the tempo at the start of the second half with pressure that resulted in in penalty corner. Slaz had worked on some routines and it was a move straight from the practice ground that saw Eddie Kendall score his first ever senior goal. The game continued as an even, end-to-end tussle and finished 1-1, a fair result. Eddie Kendall, Tom Hyde and Alex Stacey shone but Luke Minchella was Man of the Match for his tireless work and good skills.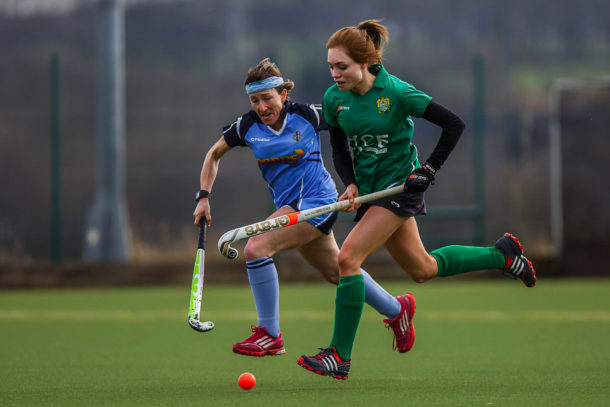 Ladies 1st's (1) vs. (1) Driffield 1st's
Slazenger ladies will feel unlucky to come away with only 1 point from their saturday encounter with Driffield 1st's. In an end to end game, with opportunities from both team, it was Slazenger who looked stronger and in control for large periods of the game. However, Driffield started the quicker, and it told with the first goal going to the visitors. Slazengers looked more organised, and responded with pressure and possesion but were unable to convert; a strong Driffield defence and keeper holding the lead.
In the second half, Slaz looked stronger; becoming more confident in their ability. Helen Hough went close, as did Jessica Rudge. However, it was Ellie Page who slotted an equaliser away halfway through the second half. The game wasn't over though, as Slaz continued to press, with midfielder Hannah Field going close twice and hitting the crossbar. In the end however, another gap couldn't be found and Slaz had to settle for the draw.