Mens 2nd's (4) vs. (1) Chapeltown 2nd's
Slazenger took a renewed optimism to Chapeltown after narrowly missing out on the full 3 points the previous week and were rewarded with a 4-1 win.
The team started well, with some aggressive hockey, finding Chapeltown on the back foot. However, some miss-timed passes and lack of clinical finish in front of goal left them searching for a way to convert the pressure. Eventually however, some good running off the ball created space for Asad Baig to set up Ben Jackson to open the scoring. Slaz went into the break 1-0 ahead.
The second half started tougher, with Chapeltown redoubling and putting the visitors defence under pressure. Hard work from Matt Green, James Taylor, and GK Daz Buttery kept the team ahead. However, it was only a matter of time before a scrappy equaliser was scored.
Slaz hit back the following minute, straight from the restart, with a solo effort from Baig to nett the second goal. With wind behind their sails, Slaz continued to press and enjoyed more posession. A series of penalty corners allowed midfielder and man of the match Ted Richardson to net a brace, to put the game beyond doubt.
Slaz look to continue making up lost ground in the league when they host Driffield next week.
Mens 5th's (0) vs. (3) Sheffield Hallam
Although Slazengers played well in attack they could not capitalise on chances made and failed to work hard enough defensively. Sheffield worked well on the counter taking a goal early in the first half and two more in the second. Final score Sheffield 3-0 Slaz.
Sparkling debut for Tommy Randle and Man of Match went to keeper Adam Garside who prevented the loss being much heavier.
Ladies 3rd's (1) vs. (1) Doncaster Independent
Slazengers ladies 3s travelled to south Yorkshire to take on Doncaster Independent in an early morning fixture. Being the only slaz ladies team not to fall foul of the cold weather 3s were hoping to make their trip in the cold worthwhile and bring home all 3 points to improve their league position. It appeared that Slazengers were going to be successful in their aim after early pressure in the Doncaster half resulted in the first goal of the game when after only 10 minutes, slick passing in the Doncaster half was finished beautifully by player of the match Lauren Fealy sweeping the ball high into the back of the Doncaster goal.
The lead was maintained until midway through the half when Doncaster themselves completed a good build up and brought the score line even.
The second half continued to be evenly matched and Slazengers fought hard to keep the attack of Doncaster at bay with some strong defending and great saves by keeper Lizzie Tunstall. Slazengers continued to create multiple chances still hopeful of taking maximum points but were unfortunate not to get a final touch on the ball which would have led to them being victors. The game ended with a 1-1 scoreline with Slazengers pleased to take a point away.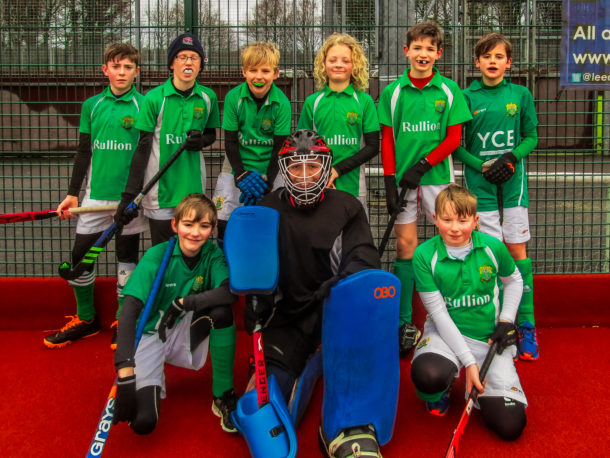 Boys U12's Tournament
A shortage of firepower proved the difference for Slazengers boys as they were unable to retain their place in the top division of the Yorkshire Youth Hockey League under-12s competition. Slaz were below their best but were in contention in all four of their round-robin games without managing to win any of them.
They lost the opener 1-0 to Harrogate, with Alex Stacey and Luke Minchella shooting just wide in the search for an equaliser.
Leeds then took the lead and although Stacey did find a leveller this time after a strong run, their opponents claimed a winner after not being brought back to retake a midfield free hit that had been started with a moving ball.
Next up, a poor clearance allowed Sheffield to go ahead early but constant Slaz pressure was rewarded as Stacey's run and nudge past the keeper made the final score 1-1.
Ben Rhydding provided the final opposition and although they quickly took a two-goal lead, Slaz then dominated for a spell and looked poised to earn at least a point after Stacey again found the net. But it was not to be as Ben Rhydding broke to kill the game off against the run of play to finish 3-1 up.
Keeper Aidan Coughtrey made some good saves throughout the tournament, while Frazer Cass was strong in defence, but it will need more goals in next month's event for Slaz to regain their place in the top section.