Mens 1st's (5) vs. (3) Hull University 1st's
Mens 1st's hosted Hull University 1st's at Slazenger HC. Slaz got off to a rapid start, slotting 3 goals away within the first 20 minutes; a goal from Richard Tuddenham, and 2 powerful strikes dispatched by James Swinden.
The game pace settled, with Hull University regrouping. The rest of the half continued with Slaz head. A second half saw the visitors come back into the game, however Slaz stayed ahead with 2 further goals, wrapping the game up at 5-3. Slaz look to keep up their winning ways away at Halifax next week.
Mens 2nd's (1) vs. (4) Wakefield 4th's
Slazengers mens 2nd team recent run of poor results continued with a disappointing 4-1 defeat at local rivals Wakefield on Saturday. Slazengers started the game brightly and were the better side for the opening 20 minutes going close on a number of occasions. As has happened often this season however, a 5 minute lapse in concentration cost Slazengers with Wakefield scoring twice in quick succession to leave the scoreline 2-0 at the break.
Having started the 2nd half brightly, Slazengers were caught on the break for Wakefields 3rd. Slazengers pulled one back through Harry Gunning but Wakefield made things certain with their 4th. Slazengers have a tough double header at the weekend against unbeaten Halifax on Saturday and the cup semi-final against Brigg on Sunday.
Mens 3rd's vs. Rotherham 3rd's
Rotherham conceed; unable to field a team.
Mens 4th's (2) vs. (0) Sheffield Hallam 8th's
It was a late start at a rather cold Sheffield Hallam ground, but Slazenger 4s were running hot. From the very start there was a feeling that the team was developing, and starting to gain a better understanding of each other's game.
The opening 20 minutes was end to end, however the Slazenger back line of Tony Walker, James Armatage, Hayden Pitchforth and Darren Bailey were up to the task, and looking confident. More importantly they were recycling the ball well to enable Josh Dunston and Dan Cass to mount our own attacks. Slazenger were looking strong on our right hand side with Brian Johnson breaking through on goals several times. The first goal however fell to Michael Plumbley with a nice 5 yard tap in and Slazenger went in 0 – 1 at half time.
The second half was a different storey, whilst we were still playing well and making some good attempts on goal these were constantly been blocked by the giant of a Sheffield keeper. With the run of umpiring decisions going against us, and 2 green cards it needed someone to step up and keep us in the game, this came in the form of our keeper Dan Alderson who had the game of his session so far saving 2 penalty flicks and countless short corners.
Then it came, a second goal from Steve Johnson on the reverse stick beat the keeper and surely put the game beyond Sheffield with 10 minutes to go. Slazenger battled hard in the last 10 minutes, and the contributions of Dean Michella, Josh swallow, Jack Lee and Owen Bland didn't go unnoticed in securing a good win.
Final score 0 – 2 to Slazenger 4s. Man of match was easy, well done Dan Alderson.
Mens 5th's (3) vs. (1) Doncaster 8th's
Oh the difference circumstance can make. This week, with no game on the pitch before them Slaz were well and truly warmed up whilst half of the opposition arrived with only minutes to spare. Slaz kept to their shape and their plan, passed the ball around until an opening was available and then hit the striker (Alex Stacey) who dummied the keeper and passed right for the incoming winger to score (Rob Searle). Slaz 1-0 Doncaster after only 5 mins. This pattern remained for the rest of the half with Slazenger going further ahead through Davey Ramsdale and Alex Stacey.
The hosts had arrived knowing Slaz had to beat them 3-0 to go above them and take top spot, and Doncaster's half time talk must have been fiery because they came out with masses of passion and applied their skills which they had in abundance. Doncaster's first goal didn't worry Slaz but when they scored with only three minutes to the Dev's shut things down tight at the back and launched long balls to their strikers to hold up, keeping Doncaster at bay.
So it was nice not to go behind for once and it's nice to be 2nd on goal difference, time to build on this performance. Alex Stacey was outstanding as a high striker, making two adults look as if they couldn't handle him, well deserved his assist and goal, but Will Gascoigne was man of the match for his excellent box-to-box midfield work. Perhaps next week we should just field the whole under 12 team?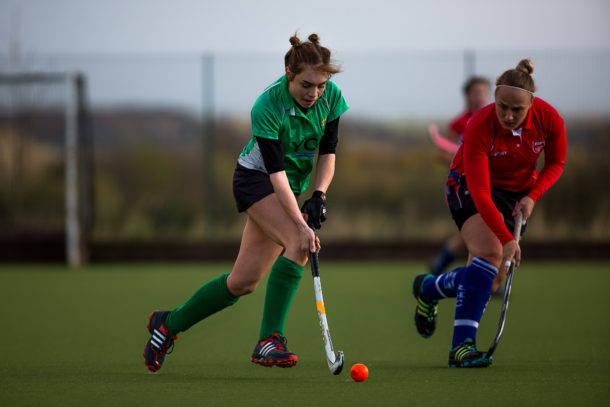 Ladies 1st's (3) vs. (1) Wakefield 3rd's
Slazengers dominated the game from the off. Katie Minchella a promising youngster scored the opening goal on the reverse into the top of goal – wowing spectators. Slazenger's continued to keep possession and put Wakefield under pressure. Wakefield found themselves on the break on numerous occasions but were struggling against the strong defence of Slazengers who retaliated with a further goal leaving the score 2-0 at half time.
Slazengers had several more attempts on goal but we're unsuccessful but with strong midfield distribution from Hannah Field they continued their attack. Wakefield managed to draw a goal however Field scored the home sides 3rd to put the game beyond doubt. The score line reflected the dedication and solidness of a powerful unit that played well together; 3-1. Next week Slaz look to face Doncaster.
Man of the match : Katie Minchella
Ladies 3rd's (1) vs. (2) Leopold 1st's
Slazengers ladies 3s suffered another disappointing defeat after travelling to play 5th placed side Leopold in Sheffield. Slazengers started the game the better of the two teams with a number of attempts on goal. The Slaz keeper at the other end of the field did not face the same pressure and was left with very little to do. It was Slazengers who were first to get on the score sheet when their pressure finally paid with forward Caro Schofield being denied a shot from a narrow angle but banging home the rebound to put the visitors 1 up shortly before half time and with it gaining her first goal of the season. Slazengers were confident that the goals would rack up as they dominated the mediocre Leo's, however the second half told a very different story.
Leopold managed to draw level when they scored mid way through the 2nd half with a very poor tap in after drawing the keeper. With 18 minutes to go the visitors were undeterred at the equaliser and the 3 points were still in reach however following a counter attack the slaz defence were caught out and a one on one with the keeper ensued. The first attempt was blocked but the Leo attacker managed to get her stick to the ball and somehow tangled in keeper Gemma Wilson's pads causing her to lose balance resulting in the ball rolling under her foot and tediously over the line . Despite Slazengers continuing to work well and create chances, they were unable to recover and were devastated not to have taken away the much needed and much deserved 3 points from this game. Sterling performamces from all the team today but player of the match went to midfielder Lucy Howarth who continues to improve with every game.
Ladies 4th's (1) vs. (1) Chapeltown 3
The ladies 4th team were not deterred by the cold with their 10.30 home pushback against Chapeltown 3. The mixed team of juniors, back to hockey and regulars came out with a new found determination that wasn't quashed by an early goal from Chapeltown. Soon after – Lucy Brereton- making her debut in senior hockey – equalised the score – only spurring Slazengers on even through the last 10 minutes of the first half when the weather took a turn for the worse.
Jess Downing fought hard working in defense and with Serena Andrassy in mid-field, ensured Slazengers continued to have opportunities in attack against the well matched opponents.
The second half saw Slazengers needing to play an increasingly defensive game with goal keeper Lizzie Tunstall making several great saves to keep the score line equal. Two short corners in quick succession did little to dent the Slazenger effort with both teams fighting for a winning goal without success resulting in a 1:1 draw. Player – Lucy Brereton.