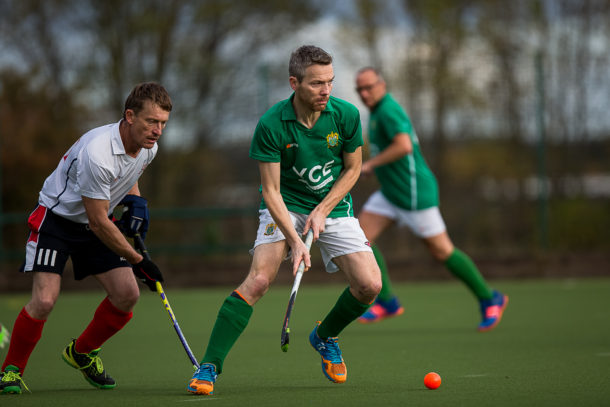 Mens 1sts (3) vs. (1) Ben Rhydding 2
Slazengers Mens First Team travelled to the edge of the Yorkshire Dales on Saturday to take on Ben Ridding. Getting off to another strong start it was Ilkley Moor goals for the Firsts going two nil up inside the first 20 minutes of the game.
However the Slazenger attack soon became an uphill effort after some confident umpiring saw Mark Swindon take his fair share of 'rests' on the Technical Delegate's bench. Coming out in the second half with a renewed energy the overload seemed to spur on the opposition, and for a spell the game looked close. Some superb work in the net from Andy Loftus kept Slazengers in it until Richard Tuddenham hammered home another goal to seal his hat-trick and put the game beyond the reach.
Some strong defending all game looked like Slazengers Mens Firsts were heading for a clean sheet until a lapse in concentration from Jonathan White allowed the home team to steal a conciliation goal in the dying minutes of the game.
The final score was 3-1 to Slazenger.
Mens 2nds (2) vs. (0) Ben Rhydding 3
Slazengers mens 2'nd team entertained Ben Rhydding Mens 3's determined to make up for last weeks loss and a good team performance saw them run out 2-0 winners. It wasn't all plain sailing however as the Slazengers defence and keeper had to work hard throughout for their clean sheet. Slazengers looked better in the attacking half of the pitch and created a number of chances but failed to capitalize meaning with 10 minutes left, the scoreline was still 0-0. Some good work down the left from Harry Gunning saw him beat a couple of players before drawing the keeper and squaring for Ted Richardson to open the scoring. Rhydding pressed forward trying to find an equalizer only for their defender to be picked off by Asad Baig who calmly drew the keeper before unselfishly squaring to Richardson who killed the game with his 2'nd. Slazengers will look to build on this performance against high flying Sheffield Hallam on Saturday.
Mens 3rds (5) v. (1) Sheffield Hallam 7
Slazenger 3rds entertained Sheffield looking to return to winning wins. The home side took the lead midway through the first half with Matt Banks scoring with a majestic flick from the top of the D after a well worked short corner routine. Slazenger continued to dominate and extend their lead further with goals from Sam Haigh and Tim Carr before half time.
The second half began as the first ended with the home side dominating territory and possession. Simon Taylor making surging runs down the left and Andy Fisher controlling the middle of the pitch. Slazenger made it 4 when Haigh scored his second with a fine finish at the back post. A break by Sheffield saw them pull one goal back but they never created anymore chances. Andy Birkett missed a penalty flick, only the second he's missed in his 46 year hockey career. Man of the Match Carr got his second of the final minute of the game to round off a 5 -1 victory for the Addingford side.
Mens 4ths (3) vs. (0) Wakefield 7th's
After 2 weeks without a league game Wakefield 7th's at home wasn't going to be the easiest opponent to get the 4s back to match fitness. There was also to be a debut appearance as the 4s welcomed Owen Bland who stepped up from the development squad.
Has the game got up to speed in the first half it was obviously going to be a fast moving, free flowing game helped by the speed and bounce of the Wakefield blue pitch. Slazenger 4s were however making the better chances when a ball came flying into the D, after a deflection it ended up bouncing on the Wakefield goal line, quick reactions from Michael Plumbley saw Slazenger go into the lead at half time.
From the start of the second half the 4s pushed hard with James Armitage running some lovely balls out of defence to both Isaac Fisher and Josh Dunston who by now were starting to dominate the midfield areas and feed the wings / forwards.
Some determined running by Brian Johnson brought him face to face with the Wakefield goal keeper and after a short shuffle Steve Johnson picked up on the loose ball to make it 0-2. By now Jack Lee and Owen Bland owned the left hand side of the field and were breaking from defence to attack at will with some fantastic hockey.
It was then it came, the goal of our season to date. Michael Plumbley picked up a loose ball inside our own half; beat 2 defenders stood the Keeper up and put the ball in the back of the net; Poetry? Captain's decision taken on man of match was difficult one, however Jack Lee did enough to impress so well done.
Mens 5ths (2) vs. (1) Sheffield Hallam 8ths
Slazenger started slowly and found themselves behind within the first five minutes on a very cold evening. They soon warmed up and got back into the game with a goal from Davey Ramsdale.
In the second half Slaz sorted out their tactics and put pressure on the visitors, Alex Stacey scoring great individual goal. League debuts were made by Fraser Cass and Joe Minchella, with Fraser taking Man of the Match (and smallest player on the pitch!)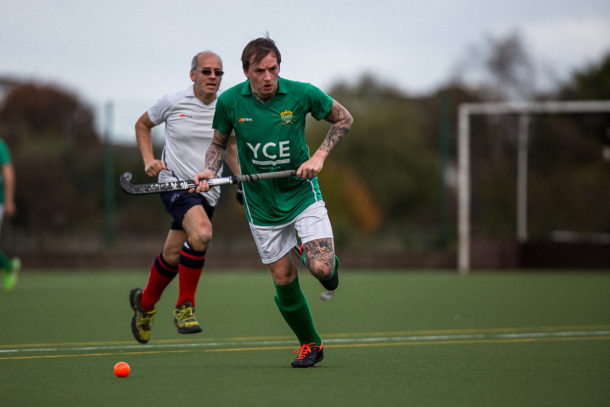 Ladies 1st's (1) vs. (1) Rotherham 1st's
No Report
Ladies 2nd's (0) v (2) Tadcaster Magnets 1 st's
The first half was a battle between two evenly matched teams, with Slazengers holding strong in defence as well attacking from midfield and creating some good opportunities which were denied by a determined Tadcaster defence. The score at half time was 0-0 but unfortunately Slazengers couldn't hold onto their clean sheet as Tadcaster increased the pressure, and scored two goals despite Slazenger's best efforts. A solid performance from Slazengers 2nd team with player of the match going to Naomi Frith as defensive centre midfield
Ladies 3rd's (1) vs. (1) Lindum 3rd's
(Saturday) Slazengers ladies 3s played an early morning home fixture against league leaders Lindum 3rd's. The first half proved to be evenly fought with both sides making their bid to be first on the score sheet. It was lindum however who won the battle, with a goal from free play halfway through the first half. This did not deter the Slazengers attack however, who put pressure on the Lindum goal to show that the game was still wide open.
In the second half the Slazengers defence remained defiant despite continued pressure from the Lindum forwards. Slazengers in turn continued to apply their own pressure, and their determination eventually paid off with 20 minutes of the game remaining when quick passing and play down the right resulted in the equalising goal being tapped home by returning player Gemma Whittam. The game ended with Slazengers earning a very satisfying point from a draw. Player of the match went to forward Louise Beever.
Ladies 3rd's (1) vs. (0) Sheffield Uni Bankers 3
(Sunday) Slazengers ladies 3rds played a rearranged fixture against Sheffield Bankers 3s. Last season brought a home victory for Slazengers and they were hoping that home advantage would once again bring them all 3 points.
The first half began with Slazengers putting early pressure on the Bankers goal with several opportunities that could not be converted. Bankers also had their chances but were ultimately kept out by player of the match Gemma Wilson in goal.
However it was Slazengers who took the lead with the only goal of the game, resulting from a slick passing movement from one end to the other and finished off by Lucy howarth. The second half saw a number of further chances for Slazengers but the Bankers defence fought hard to deny them a further goal. The game ended with Slazengers taking a well earned 3 points.
Ladies 4th's (0) vs. (11) Huddersfield Dragons 4th's
Ladies 4th team were up against a strong team vs Huddersfield Dragons losing 11-0. Lideya Booth was voted player.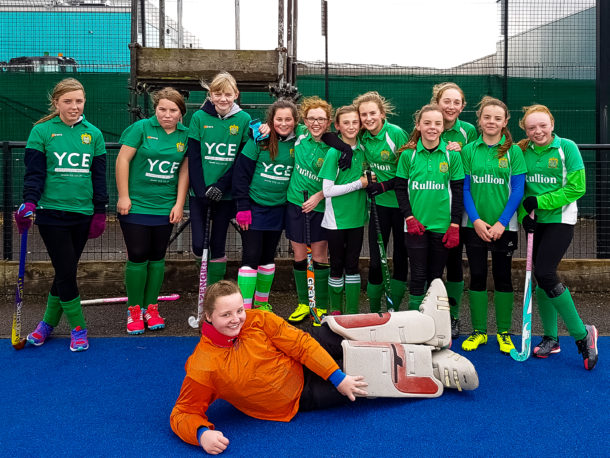 Girls U14's
Slazenger's v Leeds – Due to unavailability the girls were short of 3 players from their own group and borrowed 3 girls from the under 12's section. Despite not having trained or played together this season the girls performed well but unfortunately was defeated 4-0.
Slazenger's v Adel – Warmed up and settled the girls were determined to show what they were made of and held their heads high. With some decisive running and attacking play the girls smashed in goal after goal to bring home a 6-1 win. Impressive individual goals from and Georgia Field with double goals from Cherry Bedford and Lilly Gilbert.
Slazenger's v Chapel town – The final game of the day saw equally matched teams battle hard, Georgia Field gave Slazenger's an early lead but despite some great clearances from Sophie Fallas and fantastic saves from Masie Royston Chapeltown slip in a goal. Slazenger's continued to play some quality hockey and cheered on by the crowd held on to finish 1-1.