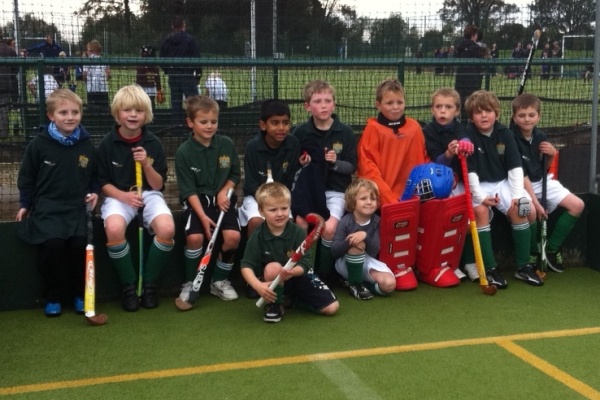 A relatively young (Average age of 7!) and inexperienced Slazenger U10 boys team arrived at Pocklington full of energy and were rewarded with promotion.
Slazengers 0-0 York B
The boys started well and tried to get the ball into the oppositions half, but the play remained in the centre of mid field as they got used to playing together and the competiveness of tournament games. York had borrowed a couple of players from Sheffield and these posed the greatest threat. The Slazenger boys had practiced short corners and easily blunted any attack from the opposition – Will F directing the defensive back line. In the end, Slaz couldnt find the breakthrough ending in a draw.
Slazengers 3-0 Wakefield B
Second up, Slazenger faced their local rivals; a taller and older U10 Wakefield squad. Up stepped young star Charlie Bland. While shorter than most of the opposition, he put paid to any doubt to the laughing from the opposition, by dribbling the ball past 2 players and laying the ball off to his brother Owen Bland to score the first goal. A midfield line of Lucas Smith, Owen B and Niran Tejura took control with great tackling and good passing between themselves with Owen's individual skills and strong hit netting him his second goal in quick succession. By now our defenders were getting stronger and more confident with Will Gascoigne being able to move further forward and cover for our midfielders has they attacked Wakefield in numbers with Owen firing in a great shot from the top of the D to net his third Goal and a well deserved hat trick!
Slazengers 1- 0 Driffield
Having watched Driffield play earlier; we considered them one of our strongest opposition and decided to play with 3 defenders; which snubbed out all their attacks and we started to get the ball out into the wide players. Joe Minchella, Will Gascoigne and Will Fealy cleared the defence well; Fealy feeding the ball wide to Tejura who layed on a short pass to Lucas Smith who passed forward onto Owen Bland who once again carried the ball forward and slotted in the only goal of the game.
Slazengers 0-0 Sheffield
Knowing that we had won promotion into the next division we decided to let the younger and less experienced boys have a game against the strongest team in our division as well as playing a few of our other players in different positions.
James Hayton showed his tenacity in tackling, and his hard work fed the ball to Nat Gunning, playing centre forward. Unfortunately, Sheffield were too strong for our 'Little Uns', preventing Slaz breaking the deadlock. Superstar 'keeper Harry Buttery, now full of confidence made this game his by a number of fantastic saves and great kicking out that more senior senior goalies would have very proud of! We held off the attacks well and came away with a fantastic draw which earned Harry Man of the tournament and next tournament's captaincy!