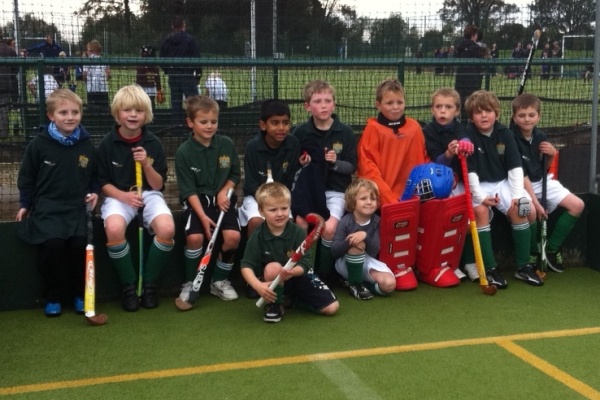 Slazenger Boys U10's travelled to Pocklington School, newly promoted, and ready to make waves in division 2. In the end they proved more than a match. With most players well under 10 years old, they are becoming a force to be rekoned with!
Thirsk (1) v (0) Slazengers
Thirsk pressed straight away and got a short corner which was well defended by defenders Will Fealy and Niran Tejura, Thirsk got a shot off from the re-bound which was saved by Harry Buttery. Slaz then started to press Thirsk with some good play from Nat Gunning and shots from Owen Bland and rebounds off Will Gascoigne, however we were unlucky not to score as Thirsk made some good saves in defence. Thirsk scored after the only slight lack of concentration from the defence which allowed their attacker through to get a soft goal. Some good tackles from Gascoigne and Will Fealy kept the score line to just 1-0 against the strongest and most physical side in the division, who said that they were glad they played us first has thought we were the team that improved the most in the tournament!
Ben Rhydding (B) (0) v (0) Slazengers
Ben Rhyding started the game well and put lots of pressure on our side, however with some good saves from Harry Buttery and James Hayton's strong tackling we absorbed the pressure well. A foot in the D led to a Ben Rhyding short Corner which was well defended by Will Fealy; now firmly in charge of his defence and growing with every game. Owen Bland then came back with a quick counter attack; which was called as a reverse stick shot. Great defending by Harry in Goal, and fantastic link up play and tackling by Gascoigne and Bland in midfield kept Ben Rhyding at bay and a well earned Draw.
Chapeltown (0) v (1) Slazengers
Our first win of the tournament and an evenly matched game against Chapeltown who started by putting us under a lot of pressure in Slaz's D but Harry Buttery cleared well into the sides. The team was finally starting to play the ball wide, with slaz countering the Chapeltown pressure until a rebound from the opposition keeper hit Niran Tejura who had to be substituted for Lucas Smith. This seemed to bring a new vigour to the team as they started to counter the Chapeltown goal with a great tackle and run from Will Gascoigne who passed square to Smith who then linked up with Owen Bland on the 23. Owen driving the ball into the D and finally firing home into Goal with a great first shot.
Doncaster (1) v (1) Slazengers
Good defending from the start from early pressure from Doncaster which led to Will Gascoigne getting injured and a quick re shuffle of the squad. A quick drive and dribbling from Niran Tejura set up a square pass to Lucas Smith who just fired wide off the goal. The ball is quickly won back by Slazengers and neat pass from Owen Bland to Smith in the D saw the ball go into the goal at 'snails pace' and Slaz took the lead. Doncaster come back strongly, and a long ball to one of Doncaster's front line lead to possibly the best goal in the tournament from the top of the D; with Harry diving to his left as the ball was driven past him.
Sheffield (1) v (1) Slazengers
Needing at least a Draw in order to stay in the division, Slaz put out their most experienced team. Immediately they were faced with a short corner after a foot in the "D"; by now Slaz had the confidence to handle any short corner as showed by how well it was cleared away. As soon as it was cleared. Slaz were back under pressure and this led to Will Fealy being injured, who still wanted to play despite not really being able to. This lead to Sheffield attacking whilst Slaz were still reorganising and again 'keeper Harry Buttery was unlucky to stop the Goal. On their next attack Harry kicked the ball out wide which went straight to Lucas Smith. With some brilliant running and passing between Owen, Lucas and Niran, the equaliser was secured by Niran. Tejura. Slaz defended well for the next 3 mins, and a amazing stop of a lifted ball in the D by James Hayton gave us a well deserved Draw and Helped Us finish THIRD in a very competitive Division!
Man of the Tournament – Will Gascoigne (Finding his position and brilliant tackling in all the games!)
Most Improved Player – James Hayton (Growing with every game)